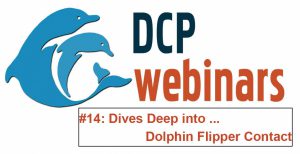 DCP Dives Deep into Pectoral Fin Contacts – How, when & why dolphins share touch with their flippers
In this time of COVID-19, your last handshake, high five or hug may feel a world away. Do dolphins have their own version of these handy interactions? Kathleen Dudzinski, PhD, has been studying pectoral fin contact among dolphins for a long time. So, tune in and find out what it's all about!
This program is geared toward high school students and above, but all are welcome.
To get the most out of this presentation, you might want to check out this article. The PDF is free to download.
You can also check out the DCP Publications page for more details on other papers on this topic by DCP collaborators.
New to DCP? Check out our previously recorded webinars on the DCP website in the webinars page under the Education tab. Or, on DCP's YouTube channel!
Original webinar airdate: May 21, 2020