The Dolphin Communication Project (DCP) turned 20 years old in 2020! John Anderson, Director of Terramar Productions and long-time collaborator and supporter of DCP, created (filmed, edited, produced) a celebratory film for DCP's 20th anniversary!
Grab a beverage and some popcorn and join Kathleen, Kel, and our team of supporters, collaborators, and students as we remember the "early days" and share how we began, where we've been, and what we envision for the future! Thank you to everyone who has made the past 20 years possible! And, stay tuned for the next 20 years!
At DCP, we promote the scientific study of dolphins with emphasis into understanding their behavior, acoustics, communication, cognition, ecology, and more. We funnel our research results into engaging educational programs. We collaborate with other scientists internationally and across disciplines (e.g., acoustics, population dynamics, respiratory physiology, cognition, etc.) to better understand dolphin society and to inspire conservation and management programs.
At DCP, all collaborating scientists are dedicated to continuing long-term, longitudinal observations of dolphins in our study locations: Bimini, The Bahamas; Mikura Island, Japan; Roatan, Honduras; Nassau, The Bahamas; and Duisburg, Germa
The research archive of DCP began accumulating with Director Kathleen Dudzinski's doctoral study of Atlantic spotted dolphins (Stenella frontalis) in The Bahamas. From 1991 to 2002, Dudzinski observed and recorded Atlantic spotted dolphins north of Grand Bahamas Island, The Bahamas. She spent six months per year on a boat collecting data on dolphin behavior and sounds. While completing her post-doctoral studies observing Indo-Pacific bottlenose dolphins (Tursiops aduncus) around Mikura Island, Japan, Dudzinski participated in the making of the large-format film, DOLPHINS, from MacGillivray Freeman Films for IMAX theaters. With the release of the film in 2000, Dudzinski formally founded the Dolphin Communication Project (DCP) and launched the first version of the DCP web site to provide factual yet engaging information about dolphins and their behavior and communication to as many people as possible.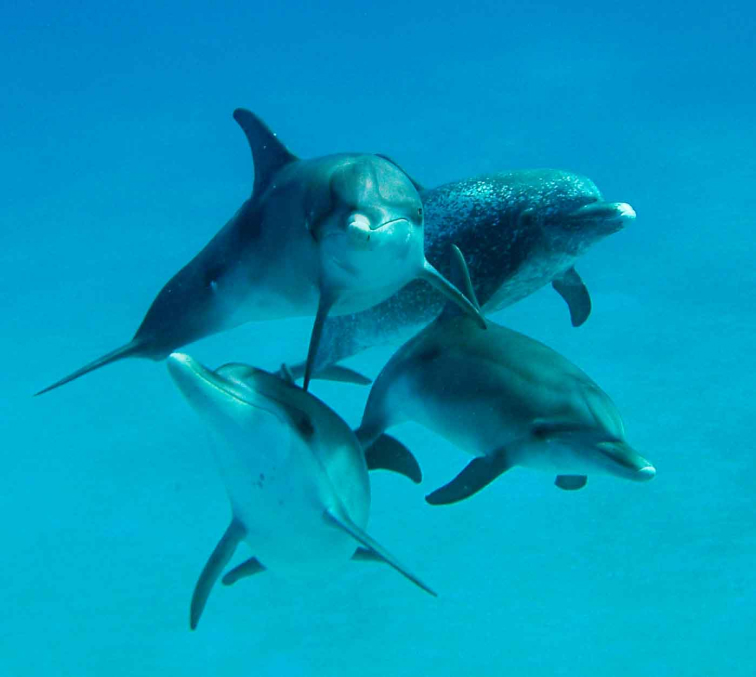 Dudzinski spent more than a decade directly studying or overseeing data collection on the spotted dolphins north of Grand Bahamas Island with Oceanic Society Expeditions. In 1997, while in the field with Bob Talbot for MacGillivray Freeman Films, Dudzinski first observed the spotted dolphins off Bimini, The Bahamas. She began collaborating with Bimini Undersea and, after returning from Japan, officially helped launch a systematic study of the spotted dolphin group from Bimini in 2001.
Since then, various students have collaborated with DCP to study the Atlantic spotted dolphins found around Bimini, The Bahamas. Kel Melillo Sweeting and Kat DeStefano were DCP summer interns in 2003 and spent the summer on Bimini overseeing our studies of spotted and bottlenose dolphins in that area. Kel then managed the DCP Bimini field site and all dolphin studies conducted from Bimini through 2020. Her Master's Degree focus was interspecific dolphin interactions. She supervised numerous summer interns;  Nicole Danaher-Garcia was one such intern who went on to utilize the Bimini field site for her doctoral work. Kel and Nicole also coordinated DCP's university field courses held on Bimini.
Atlantic spotted and bottlenose dolphins use a variety of signals to exchange information that vary according to dolphin age, sex, behavioral activity, and group type. DCP's data from dolphins in The Bahamas also contributes to our on-going questions into dolphin pectoral fin use, self-rubbing, and over-all relationship quality. Age and sex differences were recorded as related to initiator and receiver roles assumed by dolphins; for example, dolphins more often exchanged rubs or pets with individuals of the same sex and age class. Physical contact and sounds varied significantly, but at differing levels, with behavioral activity, group type, and age. Touch and sounds could be used concurrently, to maximize or enhance a message, or could be used separately, but with similar functions.
DCP around Mikura Island, Japan
In 1997, Dudzinski moved to Japan to complete her post-doctoral studies of the Indo-Pacific bottlenose dolphins frequently the area within 300 m of Mikura Island. Mikura Island offers a unique opportunity to examine dolphin behavior in a setting far different from the Bahamas. Mikura Island, about 180 km south of Tokyo, is a dormant volcano likely thousands of years old: near shore is shallow (4-20 meters) but depths over 100 meters can be found within 250 meters of shore. Dudzinski spent 2 years straight studying these dolphins and returned each summer for several months from 2001 to 2009.
DCP's research in Japan focused on dolphin signal exchange, but also provided data for Senior Research Associate Justin Gregg on how dolphins might eavesdrop on the echolocation of their neighbors. Gregg joined DCP in 2005, when he decided to focus on echolocation and echoic eavesdropping use among dolphins. Gregg created a unique method to examine head angles and turns between dolphin pairs as they swam toward the MVA. His work focused on the dolphins around Mikura Island.
Neither Dudzinski nor Gregg was able to return to lengthy stays on Mikura after 2009. Nonetheless, DCP continues to access the data archive from Mikura to continue to address questions of dolphin behavior when comparing different species from distinct habitats. And, we continue future collaboration with Mai Sakai and Tadamichi Morisaka (visit Our Partners page in the About menu for more details on these & other colleagues).
The Dolphin Communication Project is a 501(c)(3) non-profit organization that relies on support from the public to conduct our scientific research and offer education opportunities to people of all ages.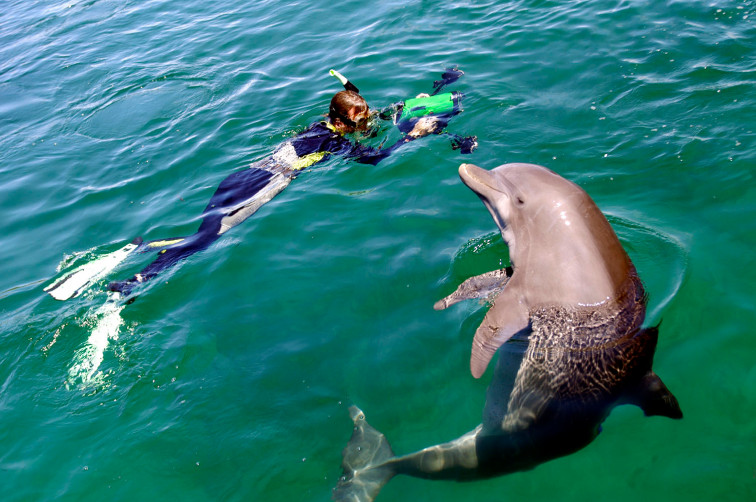 DCP at RIMS, Roatan, Honduras
In 2002, a German film crew invited Dudzinski to Honduras, specifically to Roatan Island and Anthony's Key Resort. The crew's deadline for a program were rapidly approaching and they were eager to document Dudzinski and her camera system with dolphins to highlight DCP's focal animal follow protocol with the MVA. Anthony's Key Resort (AKR) was home to the Roatan Institute for Marine Sciences (RIMS), which housed about 18 common bottlenose dolphins (Tursiops truncatus). Several of these dolphins left their enclosures to visit the reef and accompany scuba divers! This introduction seemed too good to be true! Dudzinski queried RIMS director, Eldon Bolton, about establishing a long-term study on the dolphins in his care. DCP offered our first ecotour to Roatan in 2003 and we've returned every year (sometimes up to 8 weeks/year!) to continue our observations of the dolphins who call RIMS home. For Dudzinski, beginning a study of the dolphins at RIMS was a dream come true i.e., since her graduate school days, Dudzinski had wanted to study both captive and wild dolphins in a comparative manner. Now, we were doing just that!
The bottlenose dolphins residing at RIMS provide a unique opportunity to compare the behavior of these captive animals to that recorded from wild dolphins in both The Bahamas and around Mikura Island, Japan. Collection of data from both wild and captive study sites facilitates species, habitat, and geographical comparisons with respect to behavior and communication, as well as the opportunity to look at the similarities between wild dolphins and those in human care.
DCP is proud to lead university field courses to RIMS/AKR and we look forward to many more years of data collection and education here. 
DCP at Dolphin Encounters at Blue Lagoon Island, Nassau, The Bahamas
From 2004 – 2019, DCP conducted research at our fourth study site, and second captive group of dolphins, on the common bottlenose dolphins (Tursiops truncatus) at Dolphin Encounters at Blue Lagoon Island (DE), in Nassau, The Bahamas. Adding studies on this group of dolphins to our roster of sites and animals being observed allows us to include the recorded behavior of two groups of captive dolphins (in natural lagoons) and two groups of wild dolphins into our data analyses and general archive.
For her Master's Degree from the University of Connecticut (2008), Kristy Beard collected data on the function of bubble production (from the blowhole) as a visual signal for communication from these dolphins and compared results with data collected from the bottlenose and spotted dolphins at Bimini, The Bahamas.
Gillian Reily completed her Master's Degree with Nova Southeastern University (2014) with an examination of DE dolphin whistles – her analyses suggest support for both the signature whistle and whistler repertoire hypotheses.
At both DE and at RIMS, DCP began using a passive acoustic recorder (SM2M from Wildlife Acoustics) to document diurnal vocal behavior and ambient noise levels at each facility. The photos depict the SM2M deployed in pool 2 at DE – attached to a piling – and a dolphin showing minor interest in the SM2M.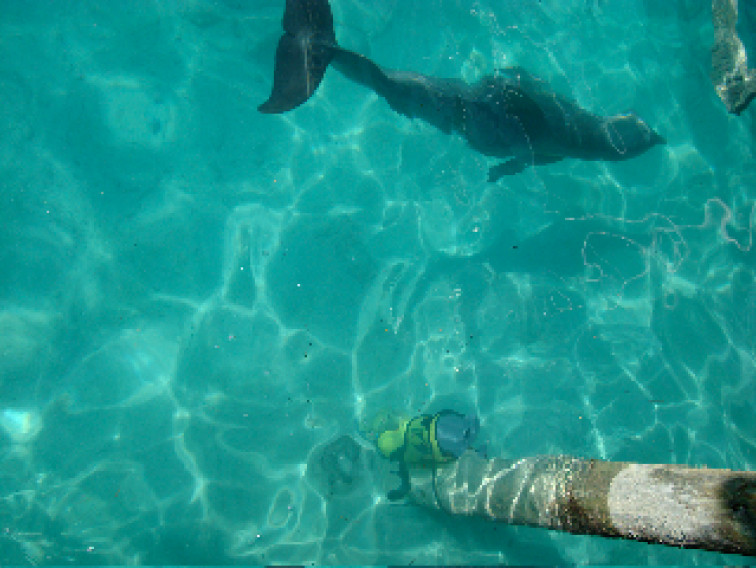 DCP at Zoo Duisburg, Germany
In 2012, Dudzinski was invited to Germany to conduct observational studies of the common bottlenose dolphins (Tursiops truncatus) at Zoo Duisburg, Duisburg, Germany. This group of nine dolphins was DCP's first study to be conducted on dolphins residing in a man-made pool. The addition of Zoo Duisburg dolphins to DCP's research roster meant we have data from two groups of wild dolphins (actually 3 or 4 if you include our archives), two groups of captive dolphins residing in natural lagoons and one group of dolphins living in a man-made pool. Our methods were consistent between all field sites and species for recording video and audio data. Our assumptions were consistent between sites. Dudzinski returned a few times to continue our studies of this group of dolphins and we found no significant differences in how dolphins exchange tactile contact whether they are wild or captive, in natural lagoons or in man-made pools. Prior to her doctoral work, Nicole Danaher-Garcia assisted with data processing and co-authored on our paper comparing pectoral fin contact between dolphins at each type of our field sites.
With research currently ongoing at RIMS (Roatan), DCP researchers have access to a data archive spanning multiple locations including three dolphin species, DCP scientists ask questions of each group individually and are also investigating how each group compares to the others. What are the similarities and differences in use and production of tactile and vocal behavior among dolphins? Could species or habitat differences play a significant factor in any observed differences in signal exchange? Are there differences between wild dolphins with those in captivity? These are just some of the questions that scientists collaborating with DCP are pursuing. Check out the research and publication sections of this web site (Research Hub) for more details.
DCP team members use specially developed underwater video and directional bioacoustic recording equipment (the MVA) to identify and localize individual dolphins as the source of sounds. Understanding which dolphins produce sounds and how the sounds might be used facilitates examination of relationships between dolphin sounds and behaviors. This unique study of dolphin communication, both in the wild and with dolphins in human care, collects data under water and uses non-invasive methods to observe and record dolphins in their own habitat. DCP is also the only group to apply the exact same protocols for data collection and analyses on wild dolphins to observations of bottlenose dolphins in captivity.
Occasionally, the dolphins find the MVA very interesting, even when it's not in the water with one of the DCP team members!
Dolphins are considered highly intelligent creatures because of their apparently complex communication system and complex cognitive capabilities. A better understanding of the minds and social lives of non-human animals is one result of examining their methods of communication and cognitive abilities. Still, dolphins, in fact all non-human animals, must not be measured according to how close they come to equaling human intelligence and development, but rather accepted and appreciated for what they are. It is through studies of this type that we may learn how better to interact with our environment, and its inhabitants.
DCP Research
DCP was founded on the dual goals of conducting scientific studies on dolphins – from their behavior and acoustics to their cognition, communication and also their physiology, ecology and distribution – and inserting research results into education programs for all ages. While DCP's research program began with Dudzinski's studies into acoustics, behavior and communication, research topics have expanded over the years to include ecology, distribution and residency patterns, hearing, respiratory physiology, and more. DCP is proud to represent a diverse group of scientists focused on understanding as many details about dolphin society, culture, social structure, communication, physiology, and anatomy as possible. For more details on research at each location, visit the current research topics page on this site.
DCP's second goal has always revolved around inserting research results into our educational programming whether online, during afterschool programs, or as part of DCP's college field courses. DCP's mission focuses on using the scientific study of dolphins to inspire conservation of dolphins and their ocean home. Several programs and curricula have been developed over the past decade to teach both school groups and the general public about dolphins, dolphin science, ocean conservation, and related topics. These programs are offered as auditorium-style lectures (100 or more viewers) or as more "up-close and personal" discussions with groups of smaller size. Presentations include slides, video, or "prop" demonstrations. DCP also offers virtual visits to classrooms and this expanded in 2020. During the COVID-19 pandemic, DCP also began offering live "webinars" (Deep Dives, Dolphin Lessons). Recordings of these talks are available under the Knowledge Hub and on our YouTube channel. For more information, see our list of options under the Knowledge Hub. For information regarding each educational activity or to discuss a special presentation, contact DCP. For information on tailored, invited lectures or speaking engagements, please check out the biographies for scientists collaborating with DCP, or contact DCP about options.
Internships/Volunteer Opportunities
Volunteer and internship opportunities are offered on a limited, individual basis. Assistance is needed in the processing and analysis of data at the DCP office in Florida. Autumn or spring semester internships are typically eight weeks long. At this time, we do not offer internships with field components. More information about DCP's internship and volunteer opportunities can be found under the Knowledge Hub. To visit one of DCP's field sites for a short, informative stay as an ecotourist, please check out the ecotour options also under the Knowledge Hub.
Swimming with Dolphins: A Position Statement
Humanity's interest in dolphins and whales has increased at what seems to be an exponential rate, especially in the last decade. This trend shows no sign of declining. With our heightened interest has come a desire to observe and interact with dolphins and whales in their natural environment. One positive effect of this interest is a renewed sense to protect the environment. It is important to remember that swimming with dolphins in U.S. waters is prohibited. If you participate in a swim program outside the U.S., we urge you to learn more about the dolphins/whales in that area and be as respectful as possible – do not chase, do not touch the animals. Be as non-invasive as possible. For more specific information on this topic, please see the Code of Conduct .