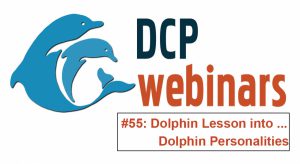 In this Dolphin Lesson, DCP's friend Dr. Erin joins again! She discusses questions like: Do dolphins have personalities? How do researchers find out? What types of personality characteristics have we seen in dolphins? How does that compare to what personality traits we use to describe humans?
Dolphin Lessons are geared toward ages 6-13, but everyone is welcome. Nothing to do in advance – just tune and enjoy!
You can find more of DCP's webinars here on our website under the Education Tab or you can visit us on YouTube at our channel: Dolphin Communication Project!
Original Airdate: 15 June 2021