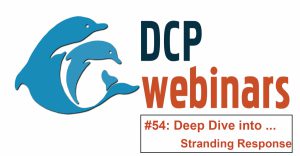 *Content warning: images of stranded or dead animals and/or necropsies may be shown during this talk. Examples of animals who did not survive their stranding or injury may be discussed.*
In this Deep Dive, Amber Lea Kincaid, a stranding biologist with Mote Marine Laboratory's Stranding Investigations Program discusses how Mote responds to sick, injured, distressed, and deceased marine mammals and sea turtles in Sarasota, FL, and the surrounding area. Specific cases are highlighted, along with general information about how Mote and their partners use strandings to conserve Florida's protected species.
This program is geared toward ages 14 and up, but all are welcome.
Original Airdate: 10 June 2021