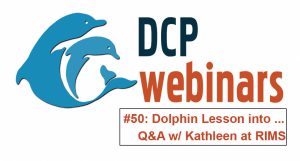 In this Dolphin Lesson, DCP's Director, Dr. Kathleen Dudzinski, discusses her research in general and specifically with bottlenose dolphins at the Roatan Institute for Marine Sciences. Several dolphins even make an appearance!
This program is geared toward ages 6-13, but all will enjoy it!
You can check out our other webinars here on the DCP website under the Education tab! Or, at our YouTube channel – subscribe today.
Original airdate: 4 May 2021