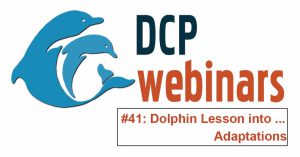 Why are dolphins shaped that way? How do they keep water out of their blowholes? Join us for a rundown of some awesome dolphin adaptations!
This program is geared toward ages 6-13, but all are welcome. Check out the details and see which is your favorite adaptation!
Missed our earlier webinars? Check out the previous DCP webinar recordings on YouTube here. Or find the other webinars under the Education tab on the DCP web page here.
Original Airdate: 16 February 2021