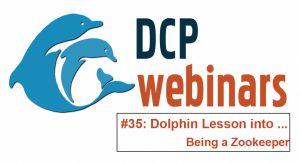 In this Dolphin Lesson, DCP is joined by Sunna Edberg, senior zookeeper at Kolmarden Wildlife Park in Sweden. Sunna shares how it is to work as a keeper in a large zoo in Sweden. The joy and fulfillment of connecting with animals and the knowledge necessary behind it.
Dolphin Lessons are geared toward ages 6-13, but everyone is welcome. Nothing to do in advance – just tune and listen to the information Sunna shares!
Missed our earlier webinars? Check out our other webinar recordings here on DCP's website or on DCP's YouTube channel.
Original Airdate: November 17, 2020