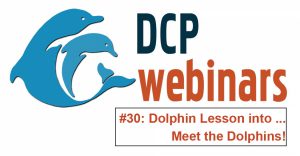 In this Dolphin Lesson, DCP talks about some of the Atlantic spotted dolphins we study off the coast of Bimini, a small island in The Bahamas. Which dolphin will be your favorite?
Dolphin Lessons are geared toward ages 6-13, but everyone is welcome. Nothing to do in advance – just tune and bring your questions!
Check out our other webinars here on DCP's YouTube channel, or visit our website the Education tab on our website (www.dolphincommunicationproject.org) to find past webinars or maybe visit the home page for a field blog or two!
Original Airdate: 20 October 2020