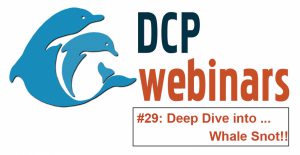 In this webinar, Dr. Justin Richard, Assistant Professor at the University of Rhode Island, will talk about beluga whale research! Specifically, Dr. Richard will share the critical research that occurs at aquariums to develop minimally-invasive tools to study beluga whales, and how we can explore beluga whale biology in new ways by combining behavioral research with physiological research. Learn how exhaled breath samples can be used to study beluga whale genetic relationships, maturity status, and even help detect pregnancy!
This program is geared toward ages 14 and up, but all are welcome. Nothing to do before hand, but you can check out this short video when Justin was working toward his PhD as an introduction to his research.
You can also check out other DCP webnars here on our website or on DCP's YouTube channel.
Original Airdate: October 15, 2020