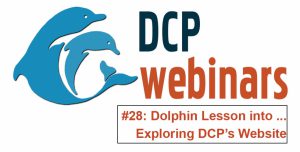 In this Dolphin Lesson, DCP guides participants and viewers through the DCP website … so you'll never have to wonder where the best dolphin resources are again! This is a great chance to give your kiddo a safe space to increase their web navigation skills. And learn about dolphins along the way!
Dolphin Lessons are geared toward ages 6-13, but everyone is welcome. Nothing to do in advance – just tune and bring your questions!
Missed our earlier webinars? Check out earlier webinar recordings here on DCP's website or on DCP's YouTube channel.
Original Airdate: 6 October 2020