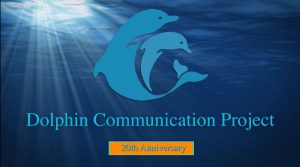 World Premiere: DCP's 20th Anniversary Film
DCP is thrilled to invite you to the public premiere for a 32-min film celebrating our 20th Anniversary! Come see how DCP got started, Kathleen's hairstyles through the years and of course – the dolphins! Grab a drink, some popcorn and then stay for the live Q & A.
Huge thanks to John Anderson (Terramar Productions) for this awesome creation.
DCP Dives Deep & Dolphin Lesson webinars will return. Stay tuned for details.
New to DCP? or Missed an earlier webinar?
Check out our intro webinar, recorded on 2 April, to familiarize yourself with DCP or visit the main webinar page to find all our previously recorded programs! Webinars are also available on YouTube. Just search Dolphin Communication Project.