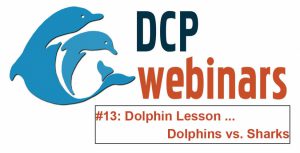 In this DCP Dolphin Lesson, we'll find out if shark researchers and dolphin researchers can be friends. What do you think?
For this webinar, Kel is joined by Jillian Morris, Founder & President of Sharks4Kids, to compare and contrast both creatures!
This program is geared toward ages 6 – 13, but dolphin lovers of all ages should enjoy it. No need to do anything in advance. Just tune in!
Missed our earlier webinars? Check out the recordings on DCP's YouTube Channel, including our first Dolphin Lesson on photo-ID.
Or find a list of all of DCP's webinars here on the webinar page of the DCP website!
Original Airdate of this webinar: May 19, 2020