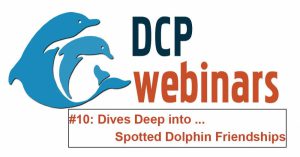 This talk will introduce viewers to "coefficients of association," one way scientists measure the social bonds between individual animals. Watch to discover which dolphins seem to be buddies among the Atlantic spotted dolphins off Bimini, The Bahamas!
This program is geared toward high school students and above, but you get audiences will enjoy it also. To learn more about this topic and these dolphins and their friendships specifically, check out this article: https://rdcu.be/b3A1K
This presentation + Q&A session was conducted with DCP's own Nicole Danaher-Garcia.
New to DCP? Check out our previously recorded webinars on DCP's YouTube Channel. Or, visit the webinars page here on DCP's website under the Education tab!
Original airdate for this webinar: May 7, 2020