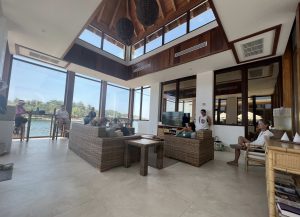 We began the day as you would expect … with dolphins! And underwater data collection was conducted with mostly Champ, Lenca, and Stan in view. There is lots of sargassum coming around the dolphin pools and the reef. We also did lots of trash clean-up. Manon and Savanna had a dolphin encounter with Tank and Elyork – so Savanna met one of her study subjects up-close-and-personal! And then, they did a dolphin swim. Savanna thought it was really cool. The underwater visibility was not great, so the dolphins just appeared out of the murk. And they got to see most of the mom/calf pairs, which was exciting for Savanna since that is the group she is studying. Manon had a very close look at Kami since Poli brought her around for a circle swim!
After lunch, Savanna shared her thesis research with Teri and her interns (see featured photo). Bill did the late morning and afternoon dives and was left to his own devices on the afternoon dive. He was focused on a group of conch while the other divers entered and they left him in the dust. Latta said it was because he and John routinely spent time under the boat for macro photography. Kathleen, Manon, and Savanna think Bill enjoyed his alone time. After that, Kathleen and Manon each had a Mayan Stone Massage (Thank you to Kristin for the gift cards!) and spent some time after in the hammock pondering their feet. Dinner was scrumptious and relatively quiet since the night divers were not yet back.
Tomorrow is our last data collection session for this trip.
Cheers
Kathleen, Manon, Savanna & Bill