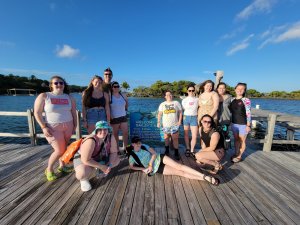 Data collection today was quiet again and the underwater visibility was not good. So, Kathleen only recorded 20 min of video and in that had about 5 minutes with dolphins in view. We took a mostly-all-of-us group photo at Bailey's this morning.
Our snorkel this morning was to West Bay, a place referred to as the Aquarium. It was awesome! We saw a sea turtle and a large pufferfish!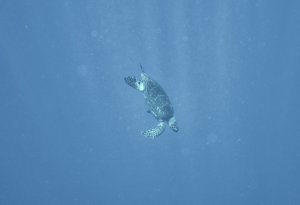 Grace – Today was kind of tough because I was not feeling well but I tried to enjoy the last moments of our trip. I enjoyed good company.
Cassie – I finally saw my turtle and was somehow better than everyone at the dolphin ID contest.
Sami – I'm not ready for this to have been our last day. So, I am planning to wake up early of my own accord to go say goodbye to the dolphins.
Molly – today was my favorite snorkel of the trip. I enjoyed swimming through the schools of fish!
Emma – today was also my favorite snorkel day. I'm really happy with how confident I feel in the water. We also had coconuts cut open for us by Steven and they were delicious.
Jen – I had a lot of fun learning how to snorkel on this trip and I am going to miss the dolphins terribly after this trip.
Rachel – the visibility on the reef was amazing and I really enjoyed seeing all the different reef life, including the giant pufferfish.
Rowan – my favorite part of the day was snorkeling. I saw more of those sea sponges that I like (blue barrel?) and a long spiney sea urchin and the puffer and sea turtle. I enjoyed also soaking up the sun rays on this last day.
Lydia – I enjoyed swimming along the sergeant majors and seeing the big fan corals.
Alexis – I had fun snorkeling today and I liked the boat ride back because I saw a flying fish.
Erin – My favorite part of today was riding on the front of the boat and getting hit by the spray of the ocean. I also enjoyed the morning data collection because it was another gorgeous day on Roatan and I plan on never going home.
Hannah – I really enjoyed our last snorkel. I'm going to miss Ronnie greeting me in the morning and I really hope it's not snowing when we get home.
Justin – I guess I just want to say that I've really enjoyed this week. We've learned a lot, seen a lot and experienced a lot. And, had a lot of laughs doing it. I feel privileged to have worked with this talented group of students this week.
Manon – the aquarium well deserved its name today. And, damn, that was the biggest pufferfish I've ever seen.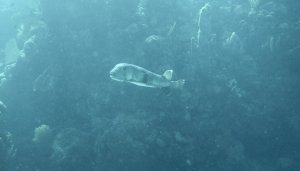 As Kathleen and Manon depart on Sunday, we will have one more data collection session tomorrow.
Until then,
URI's Mystic Mermaids