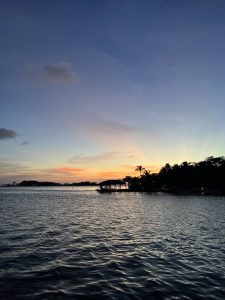 As our York University field course program is two weeks long, we had a day off to rejuvenate our minds and bodies in prep for the next week. Everyone did their own thing today, which included horseback riding, zip-lining, bird watching and hiking, snorkeling, visiting the spa, hanging out in the pool, and some work stuff. Of course, Kathleen and Manon went over to Bailey's for a morning data collection session and were joined by Daniel and Kristin. The dolphins were social, and the underwater visibility was not bad. For the first time ever, Alita tried to get Kathleen to play with seagrass while she was collecting data!
Marriah – Today, I saw a starfish while riding horses in the ocean.
Liz – Today, I met a mule named Mango and we're best friends now.
Amalia – Today was a very exciting day. Did some snorkeling, went into town, and did some zip-lining.
Daniel – Today, Kristin and I helped with data collection on our day off.
Katariina – I had a fantastic time snorkeling today.
Anna – I really enjoyed zip-lining at Gumba Limbo Park. It was my first time, and I will definitely go again.
Poppy – Today I finished reading my book at the pool.
Giulia – Today I had a wonderful day off reading at the pool.
Shereen – Today I wrote a line for the blog post.
Richard – Some think that Saturday is the last day of the week, and they are right.
Kristin – I'm glad that everyone had an awesome day off while they were thinking about what their papers will be.
Manon – Managed to do two snorkels today with octopus and eagle ray observed.
Tomorrow, we resume our structured learning schedule beginning with early AM dolphin observations.
Until then,
Cheers
The York U team