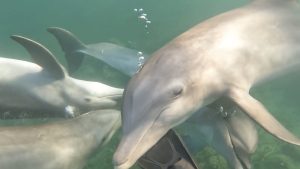 An animal-filled day is what we all had! Of course, it began with dolphins and data collection – underwater video by Kathleen and surface observations and space use data by our student teams. Tank, Lenca, Buzz and Stan swam circles around Kathleen a few times this morning. Shereen did some bird watching, several of us watched the iguanas on the key and near the main lobby area, and we learned lots from Jen about sea turtles. Shereen and Kathleen gave lectures, and we practiced our dolphin ID recognition watching this morning's video.
Anna – Jen's turtle lecture was informative.
Marriah – I got to play with Buzz today, but Champ kept stealing him to practice sex.
Daniel – We learned about turtle conservation today.
Katariina – I waved at one of the dolphins when we left and unfortunately, I did not know who the dolphin was but that one waved back.
Amalia – I started recognizing more dolphins at observations today. Ronnie, Lenca, Kami, Poli, and Champ, for example.
Giulia – Today I saw an iguana sunbathing on a float in the water.
Liz – This morning, I saw two cats snuggling and I pet one and it didn't bite me. Space exploration and turtle conservation are not mutually exclusive.
Poppy – Today I learned about dolphins, birds, iguanas, and turtles.
Shereen – Today I saw a female, green-breasted mango (Anthracothorax prevostii).
Richard – Today I saw an azure-crowned hummingbird. Shereen did not.
Kristin – I think that the data that we took today was a lot better than the data we collected on Monday.
Manon – I confirm that the data from today were a lot better than the data collected on Monday!
After data tomorrow, we plan to take the snorkel boat to West End to check out the site called the "Aquarium" … and our fingers are crossed in hopes we see some sea turtles.
Until then,
Cheers
The York U team