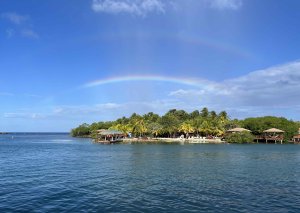 Though the underwater visibility was not great today, Kathleen was able to record lots of footage of Sandy and of Rocky … and both dolphins visited the students trying to entice them to play, as you can see here by Sandy! The morning also provided several rainbows – over Anthony's Key and north of Bailey's Key. Thankfully, the rain happened before we went to Bailey's to collect data.
We had a busy day with data collection, then breakfast (yum!). We also had a talk with Samir, General Manager, and then from Manon (on relationship quality) and Jennifer (on coral reef restoration). Our impressions of the day follow:
Lauren – elkhorn and staghorn coral are now my two favorite corals on the reef. I might travel to Florida to help Dr. Vaughan plant more coral.
Halle – I really liked listening to Manon talk about her research today and how field work is done and how it parallels to other animals.
Ember – Manon's presentation on relationship quality really helped me to make progress on my research proposal.
Amelia – getting to wake up and see a beautiful rainbow and Sandy sticking her rostrum out at the perfect time for the perfect photo was the best way to start my morning.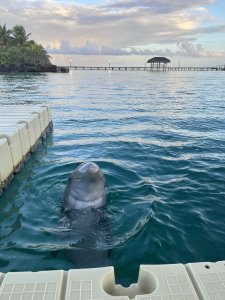 Natalie – who would've thought that corals would be grown on little plates called cookies.
Madison – Had an awesome dive with Caribbean reef sharks. It was a fin-tastic day!
Camille – Nice discovery with Jennifer's presentation on coral reef restoration.
Manon – Very calm group of dolphins this morning except for the Sandy & Rocky show.
Shane – Second to last full day. Incredibly quiet day with the dolphins. Tomorrow is the last full day with everyone in group 1. Damn that was the biggest parrotfish I've seen!
We also spent time one-on-one with Shane and Kathleen to discuss our projects for the course.
Tomorrow is our last full day here at AKR on Roatan and we will make the most of it!
Until tomorrow,
WET Rams