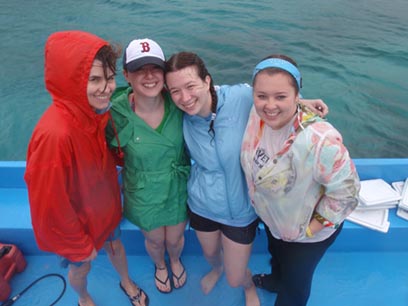 The weather report predicts clouds, rain and wind for most of the week. Still, this did not deter our behavioral observations! Our morning was spent discussing altruism, reciprocal altruism, and social complexity. Our swim with the dolphins was postponed until later in the week because the current was too strong to stand much less swim with ease among the dolphins. 
Even though it was windy and rainy, our research team began preliminary observations during the noon training session. It is amazing how much the dock moves when the wind, current and rain are pushing through in the same direction! We watched the four mom/calf pairs as the trainers fed and worked with the moms. The calves were often surfing in the current!  
Each of the moms has their own style in retrieving their calf when the latter wanders a bit away. Cedena does not let Pigeon (her female calf) wander, period. Gracie keeps an eye on her tiny female but only retrieves her physically when she ventures too far. Mrs. Beasley gently swims alongside her son and corrals him. Mika is a first-time mom and is a bit more aggressive and pushy with her son … she comes up beside him a pushes him to where she wants him! 
We also watched as Han was trying to learn from Hector. Teri was training these two males and Hector is skilled at playing around with new behaviors – create is the cue. Han sort of gets the idea behind "create" but needs more practice.  
When this session was complete, we were drenched but the wind and rain felt warm … sort of … for some of us. You can see our team waiting for the trainers to return with the empty buckets to the boat. Smiles all around. 
This afternoon, we finished the video analysis of our only hour of video recorded on 8 and 9 Jan. Each student has their own research question; they are not only learning from lectures in a classroom but also via hands-on application of the behavioral techniques, which they are learning.
Tomorrow is a new day with the wind supposed to lessen. The underwater visibility looks to be clearing a bit since the current is still relatively strong.  
Until tomorrow,
Kathleen, Amanda, Amber, Kristin, Sarah