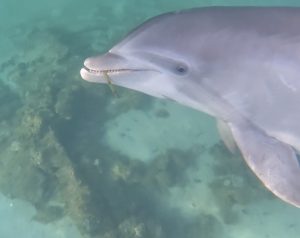 The morning was filled with dolphins! We had our morning data collection and did a full set of space use data collection while Kathleen was in the water collecting video data. Then, after breakfast, we encountered and swam with dolphins. We met Bailey during our encounter, and Tank swam by and around us also. The swim with the dolphins was insightful … it was neat to see the dolphins from the underwater perspective.
The afternoon was filled with lectures – on referential, intentional, and functional communication. Giulia and Richard gave talks that inspired conversation, questions, and a bit of debate. Tonight was also Fiesta Night: Barbeque on the key followed by hermit crab races, Garifuna dancers, limbo, and a dance contest. Anna's hermit crab made the semi-finals. And Liz and Daniel made it to the penultimate round of the limbo contest!
Marriah – Being hands on with the dolphins today was amazing!
Daniel – I didn't get bruised from some of the dolphins today.
Anna – Sharing the snorkel swim and touching the dolphins was interesting. And it was surprising to see Tank come over to us when we were with his mother, Bailey.
Katariina – When we were snorkeling with the dolphins, the calf and Poli came over and looked at me and echolocated on me. After a few seconds the mom pushed the calf away.
Poppy – It was really interesting to see all the behaviors that the dolphins had been trained to do.
Amalia – I really enjoyed swimming with the dolphins and cannot wait to do it again next week!
Giulia – Dolphins are incredibly sociable!
Liz – I tried to pet a dolphin, but it swam away.
Shereen – Today I saw 7 kinds of birds.
Richard – I spent the day in bed. I don't recommend drinking seawater.
Kristin – The fact that the dolphins choose whether to interact with the swimmers makes the experience feel more valuable and I like how it respects the animals' autonomy.
Manon – Good swim today with pretty cool interaction with Sandy and Trixie.
Today was special for another reason … Happy Birthday, Manon! We hope you have another great year that is dolphin filled!
Tomorrow is more data, more presentations, more video viewing, and ID practicing!
Until then,
Cheers
The York U team