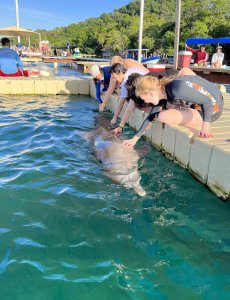 This morning was our first early morning data collection session of surface observations while Kathleen was recording underwater video of the dolphins. It went well and we spent about 45 min asking questions and discussing methods for data collection and research questions before breakfast. We also had an introduction to DCP and to DCP's research at RIMS, as well as an introduction to the dolphins and the marks used to recognize each individual. An afternoon snorkel was followed by us getting to observe some training with Maury and Gracie. In this post's photo, some of us are meeting Gracie!
Here are our individual impressions from the day:
Adilia – Testing out my sea legs from constantly moving docks. Maybe tomorrow the island will stop moving.
Natalie – First time snorkeling. Hopefully didn't kick any coral. Will toothpaste mask tonight for better visibility tomorrow.
Amelia – watching the trainers work with the dolphins was the highlight of my day. And, learning the trainer's story as well was interesting.
Halle – I really liked learning the different observation methods and can't wait to use them in future dolphin observations.
Lauren – One day I'll be able to tell the difference between Buzz and Rocky.
Ember – Gracie has my heart. I loved getting to take a closer look at her with the trainer. Her skin feels like a wet hotdog.
Jeff – Every day is a great day when you start it with dolphin observations.
Madison – A very long, exciting day. Happy to be back in the ocean!
Ron – It was great to be in the underwater marine community again.
Manon – Interesting morning observation with full-on Maury show – lots of breaching, tail slapping and more breaching in different position.
Shane – biggest parrot fish EVER! On the afternoon snorkel. The barracuda was cool but the parrot fish was phenomenal.
We look forward to more data collection tomorrow morning and then a visit to Maya Key.
We've also come up with our group name!
Until tomorrow,
WET Rams
(We Explore Together, Rams!)