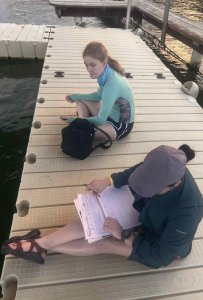 Our day was packed! We began with data collection, as you can see Natalie and Adilia doing in the cover image. Each day the note taking gets a bit more routine. While waiting for the water taxi, Amelia, Lauren, Halle, & Ember tested out the 'big chair'! And after breakfast, we packed our gear for the shuttle to Maya Key and spent the morning snorkeling off the reef and then checking out the Mayan ruin replica and the rescued animals who call the key home. It was really great to snorkel and confirm fish IDs from the lecture last night.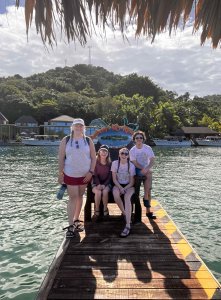 Below are our impressions!
Lauren – Found a new favorite fish – damsel fish, aka disco ball!
Adilia – Collected data – it was chaotic at first. But eventually we found a rhythm.
Halle – Really enjoyed snorkeling on the reef and knowing what fish I was actually looking at. And, I held a baby sea turtle! (excited giggles after!)
Ember – I watched a macaw projectile pee toward me – it was impressive and a close one.
Amelia – Getting to see the baby sea turtle was the cutest thing ever. Getting to learn new tricks for snorkeling when its windy was very beneficial.
Camille – I've done snorkeling before so I was not surprised but the dolphins for me – it is like they are not real … better than a dream.
Jeff – what's better … three meals a day or three dives a day? You decide!
Madison – Another fun-filled day. So happy I got to see the first sea turtle of the trip today.
Ron – It was an excellent day with my first non-helicopter dive-buddy dive today. Jeff solo'd.
Manon – Hurray! First French Angelfish of the trip!
Shane – Damn, that was a giant ass parrot fish today! (seen only by Shane and Halle and Lauren!)
Our data collection session – surface data and space use – will come early tomorrow morning and we look forward to another day filled with learning!
Until tomorrow,
WET Rams