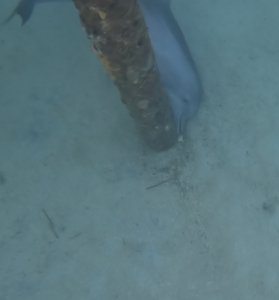 Elli and Sandy were hunting a crab during our early morning observations – Kathleen recorded this behavior on video and we watched it twice this afternoon. There was a good amount of social activity today as well. After data collection was breakfast and then (drum roll) we had our encounter and swim with the dolphins. We met Tilly and Sandy during the encounter and then played seagrass with as many of the dolphins as were interested in the game during the swim. It was awesome … as most of our impressions detail: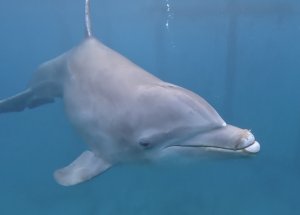 Emma – Today was easily the best day of my life! And I really like Ronnie.
Grace – this was one of the best experiences of my life and I had a great time playing with Trixie.
Rachel – I had a blast playing with Gizmo with seagrass and a bunch of other dolphins came up to me and took my seagrass.
Cassie – swimming with the dolphins and using seagrass to play with them was majestic. And I also enjoyed the sea turtle talk.
Erin – my favorite part of the day was playing with Sandy and getting to swim amongst the dolphins! I am very excited to go to the fiesta tonight and have a blast.
Rowan – I really enjoyed the encounter itself and getting to meet Tilly on a more personal level. And, I enjoyed mirroring Gizmo – she is one cool gal. The turtle talk was also cool.
Jen – I had an amazing time playing with the dolphins today and the best part was getting a kiss from Tilly.
Lydia – I really enjoyed getting to hug Sandy and getting a kiss and just being able to swim with the dolphins and enjoy their company.
Sami – I got to give so many dolphins pets today. Ronnie liked playing with me for a bit. I enjoyed Tilly's kiss.
Molly – I enjoyed swimming alongside the dolphins, and I am excited to enter the hermit crab race tonight.
Hannah – I really loved swimming with the dolphins and getting to hear all the noises in the water and thank you to Ronnie for gently taking the seagrass I offered!
Alexis – I had fun seeing what Bailey's Key looks like underwater and I enjoyed hearing all the noises the dolphins made underwater.
Justin – The highlight of my day was hearing the students raving about the dolphins as we got out of the water after our swim with them.
Manon – Gizmo ❤️
The afternoon (after a relatively quiet lunch as we pondered our morning swims) was filled with a sea turtle lecture by Jennifer, a discussion about a scientific paper on rake marks, and this blog. We completed it early because tonight is also Fiesta Night!
Until tomorrow,
URI's Mystic Mermaids
P.S. Molly's hermit crab won the hermit crab race! And, we had limbo contest and dance-off winners! Woohoo!!