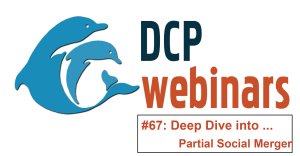 This webinar was recorded on 14 Sept 2022.
DCP Deep Dive: Partial Merger, discusses DCP's Aug 2022 publication that was featured in Science, Newsweek, and the New York Times. Now is your chance to hear straight from the source. Nicole discusses the interactions between members of two communities of Atlantic spotted dolphins in The Bahamas; asking if members of the same group were physically near each other as well as if they interacted with each other through physical touch. Fascinating stuff!
This webinar was the 67 in our series, "DCP Deep Dives," which are geared toward ages 14+. Check out the DCP Knowledge Hub > Webinars or our YouTube channel to find more archived programs. We also free, downloadable STEAM activities for kids (look for "Kids Science Activities" under the Knowledge Hub). Stay tuned to our social media for upcoming webinars, field programs, and more!