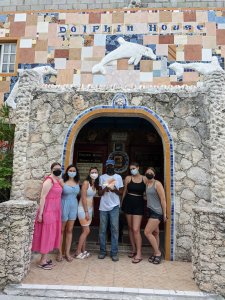 On Monday, we headed to The Dolphin House after breakfast. It was the "coolest thing" Abby has ever seen. Julia was amazed at the artistic nature; it was so much more than a house. Brie was at a loss for words and Sophia was impressed how many similar tiles or shells Mr. Ashley Saunders needs to collect to make a coherent mosaic. It was an architectural and artistic marvel filled with history of Bimini and splashes from around the world. Liv felt it was a very inclusive, inviting place. The lighthouse on and the view from the top was impressive (did you see yesterday's photo?) and seeing the in-progress 3rd floor helped us better picture the work he put in to the completed sections. His stories and his self-described "junk corners" were interesting and his use of what would otherwise be trash was inspiring; everywhere you looked, it was different and unique. A life's work that still continues! Thank you for sharing this with us, Mr. Ashley!
Back in class, we learned from Nicole about COAs – the mystery of the sociogram in the reading was solved! As we explored during break, we saw that Kel was right: the shops are small and prices are indeed high. We passed the ruins of The Compleat Angler and you can still visualize what it was before it burned down. At lunch we were able to sample conch fritters; Sophia was a little cautious, but they were very tasty.
Being on the boat, being able to ask questions about COAs, connecting our readings, in-class lessons, and our observations on the boat is really great. Before headed out, we searched for yesterday's sea horse. Boat crew Andre claimed he could see it…but we weren't convinced, ha. We did see large tarpon cruising through, another nurse shark, a blue tang, lots of sergeant majors; closer to the harbor entrance we spied two spotted eagle rays. It was very hot; with the light breeze behind us, it was very hot on the bow. We spotted splashing and came to a group of bottlenose dolphins. They were quite active at the surface, with visible mating behavior. They were not very interested in us, but the group was very large and we got some good views, as some even approached the bow. After a good observation, we said goodbye and continued in search of other dolphins.
We were pretty warm, so we asked for a swim break. With no dolphins around, we were able to jump in the water – after so many careful, respectful water entries, it actually felt odd to jump in! Abby continues to be amazed at swimming in "the middle of the ocean." Reenergized, we continued our search and were rewarded. The splashes were distant, but as we got closer….it was a group of Atlantic spotted dolphins! We observed from the boat, seeing several of the dolphins from the White Sand Ridge. As we prepped to get in the water, we were curious about the level of interest the dolphins were showing the back of the boat. Be careful back there!
In the water, we swam with three young subadults, all male. Nicole told us the one with the distinct notches in his peduncle is Paul (#99). Tomorrow we'll ID the others! They were fun to watch and swim with, showing interest in our fins and following Kel and Nicole as they dove down. Julia was amazed at how close they came to us and Sophia noted how they partially closed their eyes as they came near us. And….one pooped in Sophia's face. Abby had some snorkel trouble, so she calmly headed back to the boat where Liv was observing the dolphins from the stern. The dolphins would go out of view and then suddenly reappear. It was a really awesome experience.
Back on the boat, we headed toward shore. Suddenly we realized there were spotted dolphins riding the bow! We positioned ourselves on our bellies, so that we could get a good look. The dolphins often turned on their sides, perhaps to get a better view of us watching them! They made turns over and under each other and even took quick leaps before sliding right back into bow riding. Watching each dolphin peel off was cool. We enjoyed the beautiful sunset as we returned to the harbor.
Dinner was served at the marina and we watched the moon rise, peeking out of the clouds. We were tired from the boat ride and long swim, so we headed to our rooms ready for bed and excited (or nervous?!) for tomorrow.
Until next time,
The Final Five (SHU 2022)…or are we The Galphins?