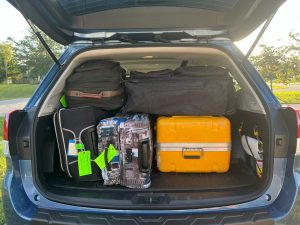 Happy New Year! We at DCP hope everyone has a festive and safe new year celebration and that 2022 will be a year of lessening pandemic issues, as well as a year of new experiences and learning. We will start the year traveling to Anthony's Key Resort to join Shane and our first group of CSU students for our first college field course of the year! Starting the year observing dolphins, fish, and a variety of other marine life, as well as meeting new friends and learning about physiology and behavior is the perfect prescription for beginning a year well!
We travel from Miami and Denver and converge on Roatan to Anthony's Key tomorrow – New Year's Day. Stay tuned to our blog here and DCP's social media to follow along with our group's itinerary.
As you can see, we are packed (solidly!) for excitement.
Happy New Year's Eve!
Cheers
Kathleen, Manon, Ron & Camille
(joined by Shane and the CSU Rams Abroad 2022 group tomorrow)