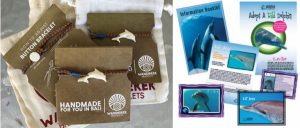 Adopt-A-Wild-Dolphin Print Kit + Bracelet Bundle is back! For just $49, including shipping*, receive a Adopt-A-Wild-Dolphin print kit and DCP-Edition Dolphin Wanderer Bracelet. Select dolphins only. Offer available until 16 December, 2021. While supplies last. And yes! This bundle also qualifies for 3 free DCP stickers! Click here to order.
*Free standard shipping to US addresses is included. International and expedited US shipping is available for an extra charge.
Want to Adopt-A-Wild-Dolphin without the bundle? Click here for info on our print and electronic kits.