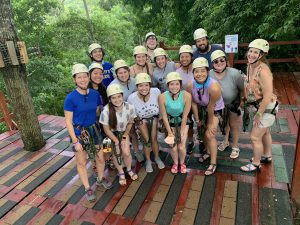 The dolphins were playful again this morning. There were some side leaps, some chases, and lots of seagrass and seedpod play. Our observations were 'dry' as the rain held off until breakfast. The downpour postponed our encounter and swim from this morning to tomorrow morning because the underwater visibility dropped severely. So, we shifted to some indoor and some outdoor (between rain drops) activities. We had a brief career informal discussion followed by more inter-tidal critter GIS tagging and a bit of data entry. Lunch was punctuated by more raindrops that subsided enough for us to get our COVID tests (all negative – hurray!). We reviewed the morning's video for ID practice and had our second quiz of the week (on corals). And, the rain let up enough for us to visit the Mayan Jungle and zip-line adventure. Here are our impressions of the day:
Leo – I didn't go zip-lining but I did have an excellent view of the sheep and their young. And I thought it was really fun to see Diego experiencing something for the first time.
Cidney – I'm thankful the rain stopped so we were able to have the zoo and zip-lining experience.
Celli – I got to zip-line upside down and hold a sloth for the first time. Ten out of ten – highly recommend it!
Mary – I was pretty disappointed when we couldn't do our dolphin encounter today, but I was very glad that we could go see the animals and zip-lining this afternoon. (DCP p.s. – dolphins tomorrow)
Brie – Zip-lining was definitely outside of my comfort zone. But I'm glad I did it. I also enjoyed interacting with the sloth, monkeys, and parrot.
Irene – I enjoyed interacting with all the animals and watching the monkeys obsess over Santiago's and Cidney's hair.
Rebekah – Zip-lining was freaking awesome!!! The view was amazing and I had fun with my friends.
Karla – I really loved the view while zip-lining even when I was upside down.
Riley – SLOTHS!!! My love for them has grown even stronger. It's so fluffy!
Santi – I enjoyed hanging out and cradling the sloth like a wee baby. I also had a relaxing time at the macaw spa (i.e., the parrot was massaging my head).
Nicole – It was my first-time going zip-lining today. And it was badass to see the greenery and the ocean from above the treetops.
Andrew – Zip-lining was fun and holding a sloth was one of my favorite parts of the whole trip. It was very exciting to get to hold lots of cool animals. ALSO Finally DONE with grad aps.
Diego – I enjoyed ziplining as it was very exhilarating. I have been on a ski lift but zip-lining was really something else.
Mia – During zip-lining I went upside down, which considering I was very nervous I'm pretty proud of myself.
Dr. H – I am super proud of all of our students for being flexible for their ability to switch gears every 45 minutes today!
Dr. K – as much fun as we've had here, I'm very thankful everyone tested negative for COVID and we don't have to quarantine here for two weeks together!
Our evening was spent watching Escape from Extinction, American Humane's film about the sixth mass extinction and the role of today's zoos and aquariums in combating that process. After a long day, our students were enthralled by the film and the inroads being made by zoos and aquariums to counter human impacts on our natural world. We strongly encourage folks interested in protecting our world to watch this film and to visit an accredited zoo or aquarium.
Until then, cheers
Kathleen and the "self-renamed" group: The "oooooo – Rattler 'Cudas"