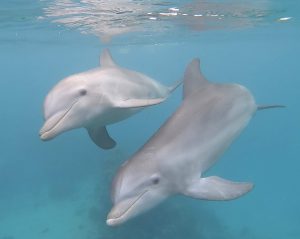 Today was a long but full day and included dolphin observations, classroom lectures, panoramic photo training, GPS-use training, a bird-ID challenge, reef snorkeling from shore, an inter-tidal critter hunt (with cameras!), and the fish ID lecture in the RIMS classroom. Of course, meals and water taxi rides punctuated those events!
Here, some of us return after picking up our snorkel gear from the dive shop (Thanks Brie!).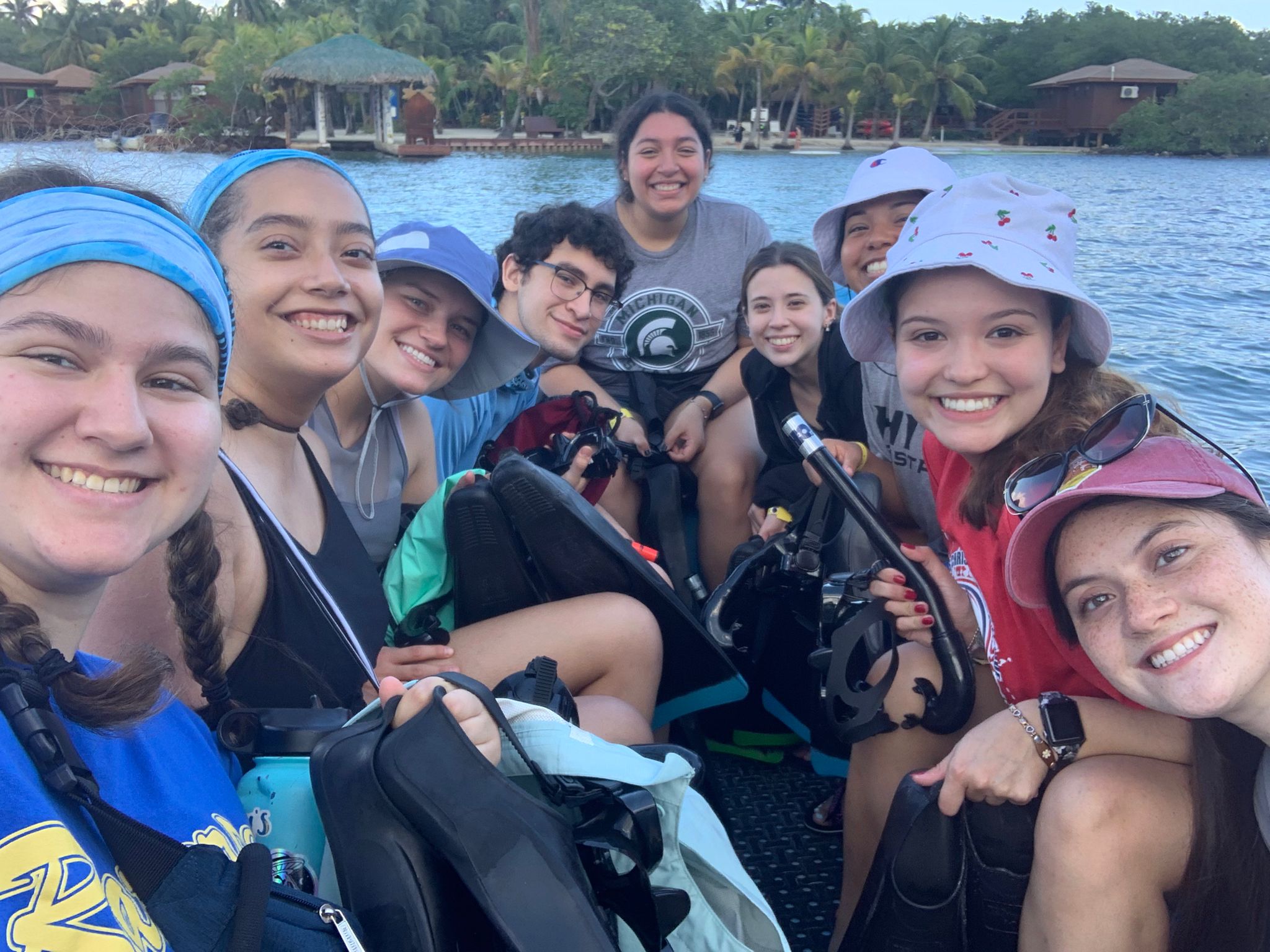 Below is everyone's favorite part of their day …
Dr. K – My favorite thing of today was when Dr. H and I went kayaking at sunset to try to see the green flash. We missed it but had fun kayaking.
Rebekah – I liked seeing how the dolphins reacted when we first got to Bailey's Key this morning.
Andrew – I very much enjoyed kayaking at sunset.
Karla – I thought it was really interesting to learn about all the fishes during the fish ID talk from Pete. And, that several species have 'fake' eyes on their bodies to 'fake out' predators.
Cidney – it made me sad to see diseased coral on our snorkel.
Irene – I found it interesting that stress hormones are present whether from positive or negative stressors.
Mia – it was really interesting to see the coral reefs. I had expected them to be very colorful like in photos … they are more neutral, but still beautiful.
Aracelli – I loved being able to hear the dolphins' whistles underwater during snorkeling.
Leo – after observing dolphins and tidepools, I realized that you miss a lot of beautiful things in life by overlooking them.
Santiago – I had fun searching for slugs and crabs with my very insightful teammates.
Riley – I enjoyed finally getting to start my field season in Roatan and coding dolphin behavior from a larger environment.
Nicole – it was my first time snorkeling and it was really cool to see the coral up close.
Brie – I found it interesting to analyze the video of the dolphins' social behavior and get a better perspective of being able to ID them from rake marks on certain parts of their bodies.
Mary – I found it very interesting that dolphins don't make facial expressions. I thought they were smiling because they were always happy. And it was weird but cool in a good way that they can see 180° with both eyes.
Diego – I found it interesting to learn of dolphin anatomy – not something I was familiar with, but it helped with identifying dolphin sex.
Dr. H – it made me happy to see the dolphins play. And it made me happy that no StMU student drowned during snorkeling today!
Kathleen – I enjoyed having Elli introduce me to her calf!
Tomorrow will bring more observations of dolphins, more space use data collection, and a visit to Maya Key with more snorkeling!
Until then, cheers
Kathleen and the "self-renamed" group: The "oooooo – Rattler 'Cudas"
Here, we wait for the water taxi while Kathleen shares insight on the dolphins.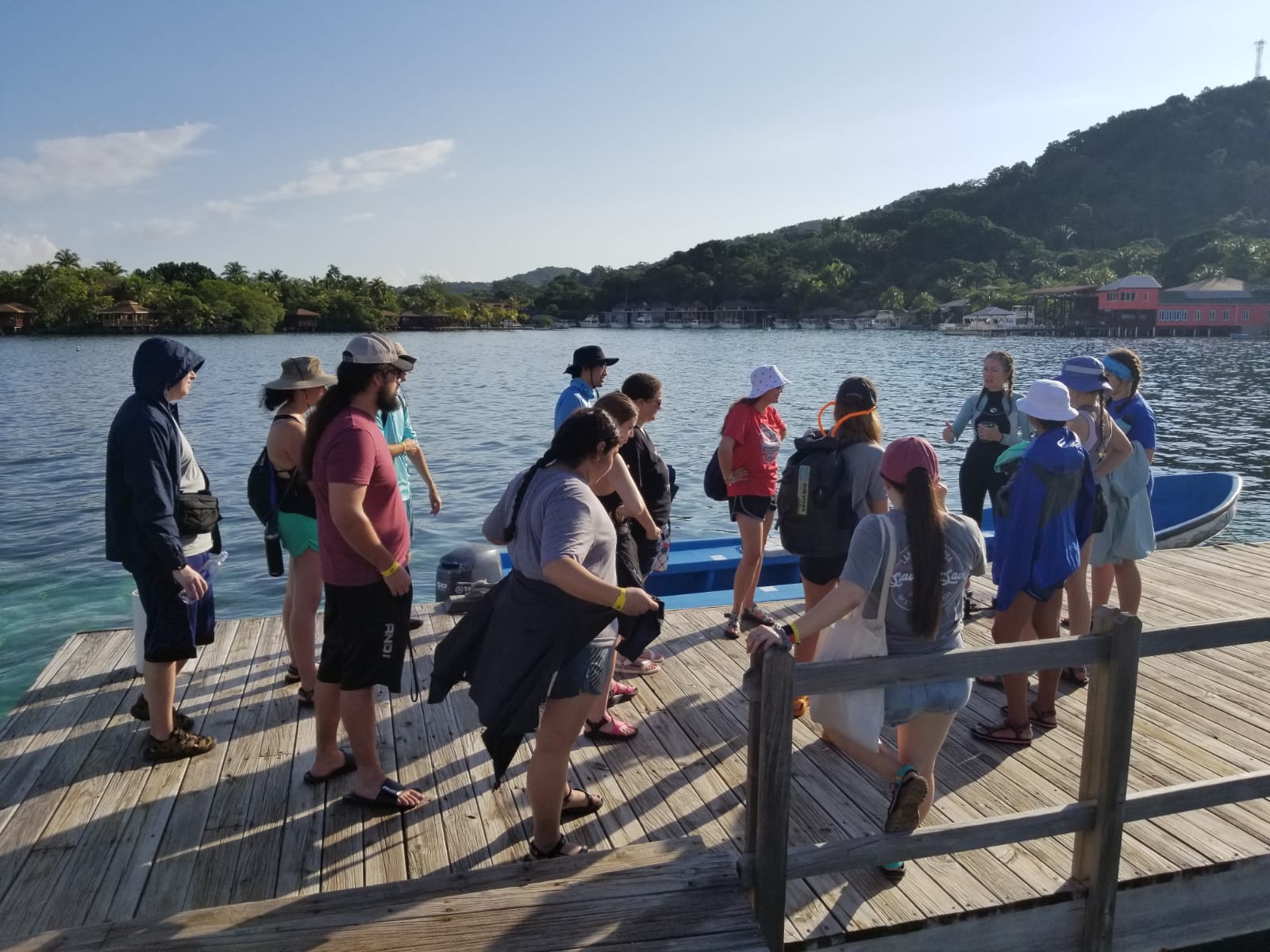 Here, we practice our GPS training!