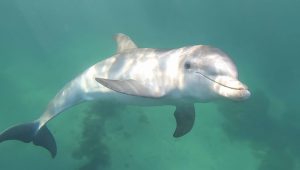 I was able to collect 40 minutes of video this morning of dolphins that seemed really happy to see me! They all had smiles! Ok, that's really anthropomorphic … but it did seem like several of the young dolphins had missed my fins as play toys! There were LOTS of whistles and bubble streams and much chasing and play behavior. Our group met me at the water taxi at 6:30 and I was in the water about 20 minutes later. The underwater visibility was excellent!
I watched as Maury herded Rocky away from me (though not before I got the cover photo of him!) and Alita did the same with Buzz.
Ronnie and RItchie spent much time together and you can see them here playing the "strong silent" types as they swam in formation around me for a few passes.
Our group was very helpful with the surface observations. And most everyone got several dives in today from Isamar, their dive boat.
I also was able to connect with the training staff and say hi to more than just the dolphins! Chris, Dave and I scienced the afternoon in good and productive discussions, while a few folks dove and others enjoyed the pool ambience! A generally great day all around!
Tomorrow should bring the same.
Cheers
Kathleen and DCP's October 2021 RIMS/AKR Ecotour group