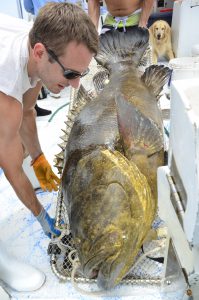 Thursday, 9 September, 7:00 PM ET (NYC, Miami – Zoom details below)
Spawning Patterns, Diet, Mercury, and Reasons Why Goliath Grouper Should be Protected In Perpetuity
In this Deep Dive, Chris Malinowski, a biologist who is passionate about conservation of marine and aquatic systems will discuss not dolphins, but a fish: the goliath grouper. The Atlantic Goliath Grouper (Epinephelus itajara), a large indigenous tropical reef fish, approached local extinction in U. S. waters by the 1980s as a result of intense fishing pressure. In 1990, federal and state laws intervened to protect this species. The resulting fishery closure, over the intervening years, allowed limited, slow population recovery in Florida waters while populations outside of the United States remained vulnerable (IUCN 2019). The closure led to the blossoming of a dive ecotourism industry catering to local and international divers seeking opportunities to see and photograph these enormous fish. This fundamentally changes the paradigm for goliath grouper from a fishery resource to a non-extractive resource with a commercial value vastly greater than that gained through fishing. While federal and state agencies attempted to re-establish the fishery, all three stock assessments were rejected. During this special Deep Dive, Chris will discuss goliath grouper's biology, the controversy surrounding its protection, and the drawbacks of re-establishing a fishery – especially in light of the recent FWC Commissioners vote in favor of having FWC staff develop a draft plan for a limited fishery – including: loss of nursery habitat, increasingly destructive episodic events like red tide and cold snaps, and the effects of mercury contamination on fish health and survival, and also human health implications.
DCP Deep Dives are geared toward ages 14+, but all are welcome. This talk is expected to run ~50 minutes, plus Q&A.
Learn more about Chris at www.chrismalinowski.org or on Instagram (@conservation.chris)
Want an intro before the talk? Check out Terramar Productions' short film, Goliaths in the Stream.
Sept 9, 2021 7:00 PM Eastern Time (NYC, Miami, etc.)
Join URL: https://us02web.zoom.us/j/82989899885
Meeting ID: 829 8989 9885