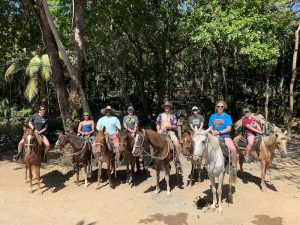 We got up early again and went to Bailey's Key to do observations. And, before we could start with our space use data baseline, we saw a giant sting ray and an eagle ray in the dolphin enclosures. They did not seem to want to hang out with the dolphins …
Thank you Manon for the great eagle ray photo …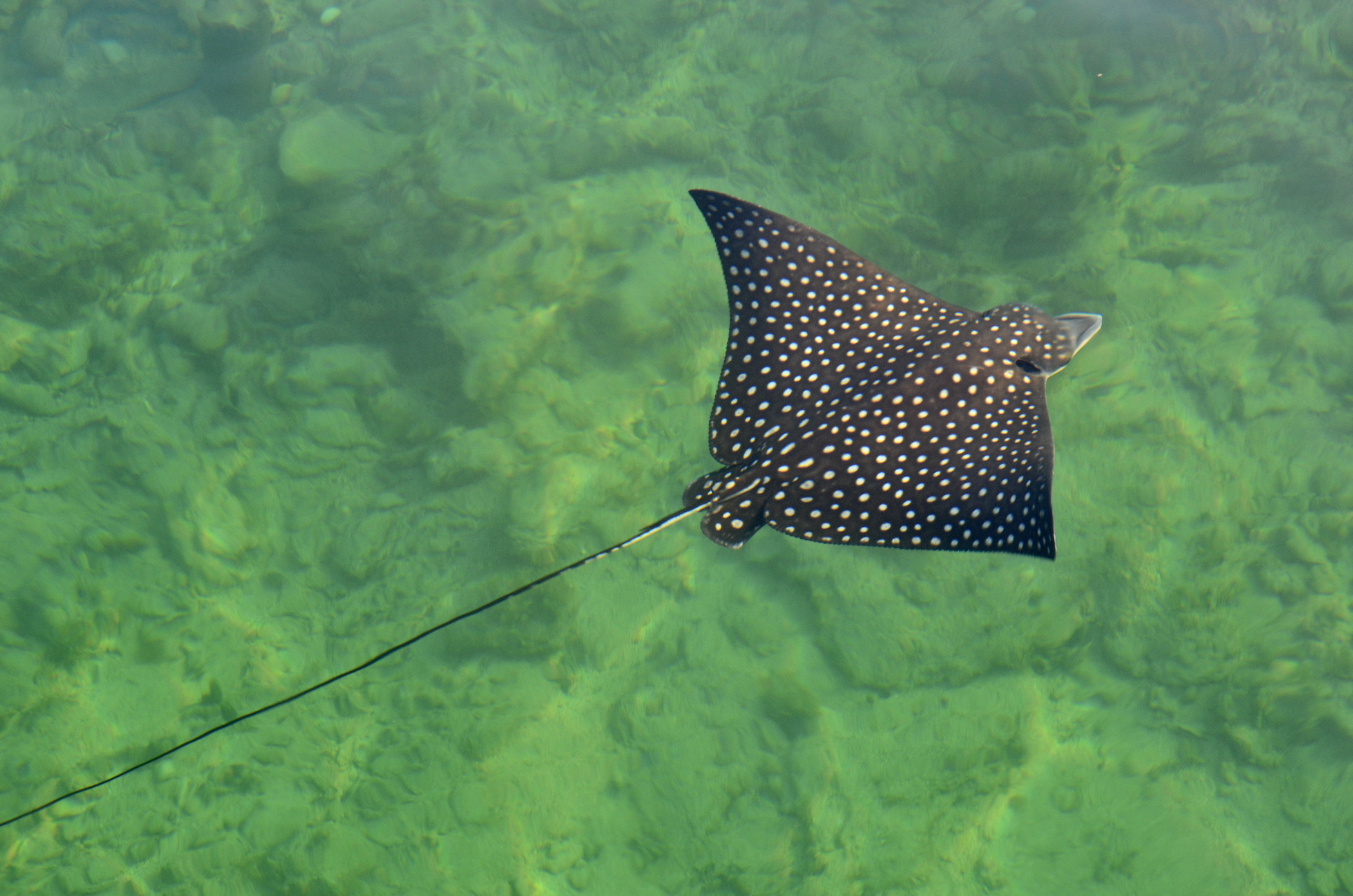 This morning was the smoothest day yet for space use data and surface observation data. They were VERY active. There was one dolphin breaching several times in Grid A3 space. And, then there were pec fin slaps and other surface behaviors. This was one of the most active days we remember … at least since the first day. But, we knew what to look for today and to record.
We actually had a leisurely breakfast – the French toast was very delicious and most of us had that meal this morning.
After breakfast we returned to the classroom for a presentation by Manon on relationship quality and PSP (pair swims). She did a really good job in teaching us in-depth what they have been doing to look at the relationships between dolphins. They use a program called Boris and Manon explained the formulas she used to assess the variables.
We also watched the video from this morning's data collection session and saw the behavioral interactions from Kathleen's perspective. We watched the stingray in the lagoon try to climb the netting to get out. We watched Poli and Elli and the others play with a piece of mangrove root that looked like a stick to us.
We had a little bit of a break and then ate lunch. After lunch, eight of us went horseback riding along the beach. Nathan really enjoyed his ride … thank you Alexa for the photo. We learned tonight this was a bucket list item for Nathan – to ride a horse on the beach with his shirt open and the wind blowing through his hair. Check!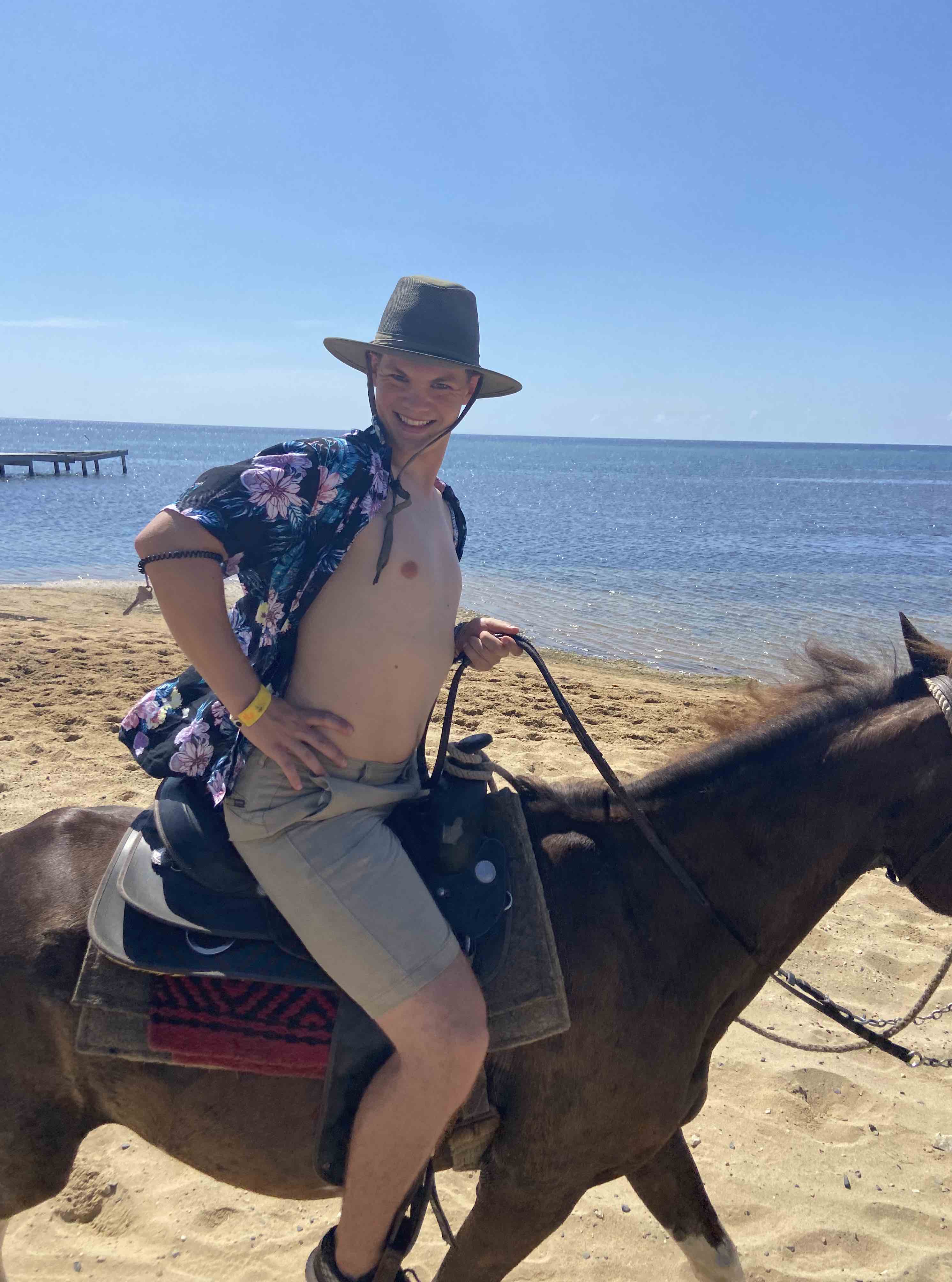 Some of us went snorkeling off the north side of Anthony's Key and got to see the coral reef restoration trees first-hand and we also picked up a bit of trash while snorkeling. Those who rode horses then went snorkeling later and a few others of us went to the pool while still others took a lengthy nap. It was a relaxing afternoon … until we had our second meetings with Kathleen and Shane. The meetings went well … Alexa did a little spin-pose on arrival and Marc did a leprechaun kick after leaving his meeting.
Dinner followed our meetings and it was yummy! Filet mignon, French onion soup, and cheesecake! After dinner … we were tested on our knowledge of the RIMS dolphins … it was much harder than we thought it would be. Our of 27 images, the highest number was a tie for 9! (We must need more time here to really remember the scars and marks!)
We finished the night with our blog (which took longer than usual because we also filled out the pre-check forms on our phones), filling out the Honduras exit pre-check form ,and watching more video (from yesterday morning). We travel home tomorrow …
Cheers
Dr. Kanatous' Kindergartners (aka Roatan Rams 2021)