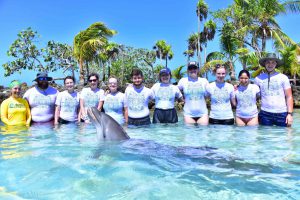 We snorkeled with dolphins! But, of course, first we did observations – and hopefully our smoothest ones yet – for space use data and the surface observations when Kathleen was in the lagoon with the dolphins. There was a lot of aerial activity when Kathleen got in the water. We saw them circle Kathleen a few times … they were close. Calli and a few other dolphins really wanted to play with Ashley and Sean. Maybe this was foreshadowing because Calli was the dolphin we met during the encounter. Overall, the dolphins were very playful this morning. And you can see our group shot with Calli on front!
Here's a close-up of Calli.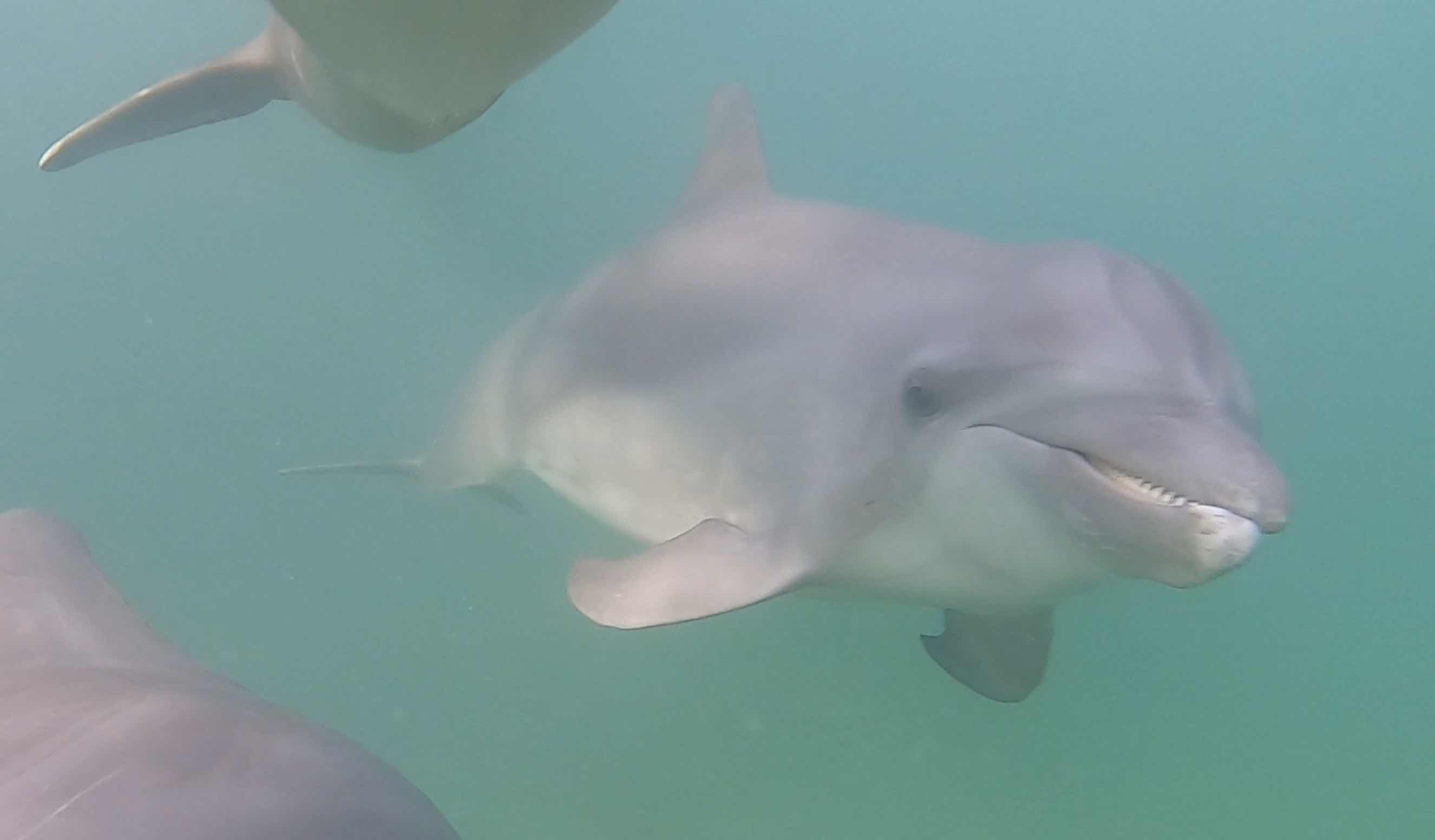 Breakfast was yummy and we also got a chance to speak with and listen to Don Julio, founder and owner of Anthony's Key Resort. We got to see how involved he is with everything here at the resort. He was familiar with every aspect of the facility and did not seem frustrated or stressed but spoke highly of the guests and the employees. It was very obvious how much Don Julio cares about all aspects of the resort. He said everyone should laugh every day and he said his job is to please you (the guest). And, Don Julio also asked us how he could make our experience better … which was unique to us because he is the owner but was so involved.
We had to leave our chat with Don Julio to head over to Bailey's Key for our dolphin encounter and swim. We met Calli who gave us French kisses! Kenly is Calli's trainer and he introduced us to Calli's behaviors and mannerisms. He also told us that Calli is not doing aerial behaviors because she is pregnant. Kenly shared with us his history of working with Calli and the story behind her name. It was a great session and their relationship was very evident and very affectionate.
After the encounter, we had the swim! It was amazing! Each morning, we've seen the dolphin behaviors from the surface but today it was like being part of a Planet Earth documentary. It was an honor to have Calli take some grass from my (Ashley's) hand. The swim gave us a whole new perspective from what we already have – that is, surface versus underwater observation platforms and what they offer of dolphin behavior and interactions. I (Marc) felt more comfortable in the water snorkeling this morning – especially after 2-3 snorkel sessions – and it was appreciated to be this comfy with the dolphins.
Lunch … we worked up an appetite! Excellent dessert – a pineapple tart!
Our afternoon began with a talk from Teri, Assistant Director of RIMS. She told us about the RIMS history and the projects and research ongoing here at RIMS. Then we watched this morning's video data with the RIMS interns and improved our ID skills even more. We all know Stan well since he was all about Kathleen's fins this morning!
Then, Shane and Kathleen made us ask questions.
Tonight is Fiesta Night – we will have BBQ and learn about the Garifuna dancers and culture.
Cheers
Dr. Kanatous' Kindergartners (aka Roatan Rams 2021)