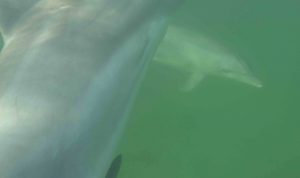 Our last day of data collection began well with a light breeze and little surface chop. Sadly, the underwater visibility was not great – very silty, green water with lots of suspended particulates. Kathleen was able to collect about 25 minutes of video and watched Elli and Lenca play a bit and circled close to Kathleen and the MVA (pictured). Bailey swam by and echolocated on the MVA and Kathleen. Tank and Sandy played chase and keep away off to the side – Kathleen did not really see them underwater this morning.
Still, it was a good day to watch the overall activity of the group – they were spread out and using most of the lagoon area. In the morning and afternoon, Heather and Kathleen were able to collect a few more create sessions with Maury, Gracie, Tilly, Poli, Calli, Bailey, and Elli.
Rachel and Melissa went for a kayak and Heather and Melissa did a couple of snorkels behind Bailey's Key – they saw many small fish, one "really big fish," but no octopus! Ron and Bill had a good morning dive. And, we all rinsed and packed gear this afternoon. We depart at varying times tomorrow morning.
This week was productive with 5.5 hours of video data collected on both the MVA camera and the GoPro mounted to the top. We will be kept busy logging the videos to confirm dolphin IDs and then event sampling for our RQ study. And, Kathleen will include a more detailed summary of this week (and plans for her return in ab out a month) in our next issue if the Dolphin Gazette.
Have a great day!
Cheers
The SSRB 2021 Ecotour group!