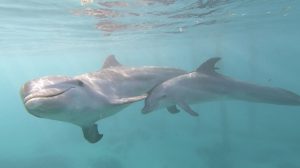 We got what we wished for last night … no rain and decent underwater visibility allowed for a 34-minute underwater data collection session at Bailey's Key this morning! We saw just about everyone except French and Champ underwater. Tank spent time with his mom, Bailey, as well as with Stan. You can see Bailey and Tank in this photo. The underwater current was stronger than yesterday, which gave Kathleen a strong workout! And the dolphins were social and active. It was a good morning!
Nicole went to Maya Key today with the AKR picnic team. She snorkeled and saw the Christmas tree worms, and trumpet fish. Underwater visibility at Maya Key was really good. Snorkeling was followed by a delicious lunch and then a tour of the replica of the Copan ruins and a meet and greet with Wrinkles, the rescued capuchin monkey, who actually joined the tour for most of it.
The afternoon was spent reviewing video and working on data. It was a good day with lots of sunshine and only a few drizzles of rain. The wind has slackened and we are hoping tomorrow is another day in paradise!
Until tomorrow,
Cheers
Kathleen & Nicole