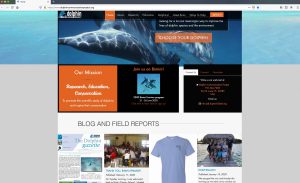 This year will have me/DCP visiting Roatan four times! And my second trip begins tomorrow morning! I will meet up with the Professors Heather Hill and Melissa Karlin from St. Mary's University (StMU) and their students either at the Roatan airport or at Anthony's Key Resort. Any of you who would like to follow along with our week of data collection and in-the-field learning can do so through DCP's home page blog (see photo)! We promise to share our daily exploits with everyone each night!
For now, I need to finish packing and confirming all the gear is ready to go. Dixie and Baloo – our mini and micro seabeagles – would like to join me as they keep dropping toys into my gear bag! They'll stay home on this trip and practice their doggie paddle!
"See" you from Roatan!
Cheers
Kathleen