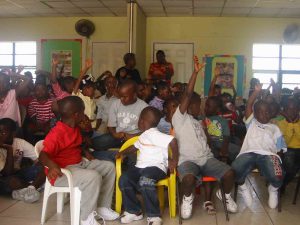 On Tuesday morning, I was welcomed back to Bimini Primary School. I chatted with grades 2, 3 and 4 about DCP and the dolphins found around Bimini. The students were eager and respectful – thank you! Though, any time I'm talking to students and explain that I have been studying Bimini's dolphins for longer than they've been alive….sure does make a gal feel old!
Thank to you to the Principal and teachers for having me. I hope my visit was a small part of inspiring Bimini's youth to value and prioritize their ocean home. Once again, I find myself already looking forward to my next visit.
Cheers,
Kel
PS: In all the excitement, I forgot to get a photo! So, here's a throwback to one of our first Bimini school visits (2004?) – when the Bimini Catholic School was still open!