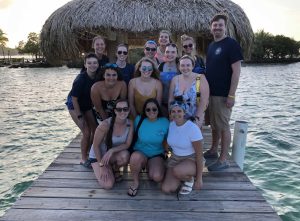 We escaped the rain and thunder this morning as we went out to conduct our final surface observation and space use data collection session while Kathleen was recording the dolphins. This morning was quite quiet during most of the session but then it ended with some dolphins doing flips … it felt like they were sending us off with flare! This was good considering Kathleen truncated her data collection session because the underwater visibility was horrible (to quote Kathleen – it sucked!). There was also much glare on the surface that made it difficult to determine if dolphins were in the safe zone area.
We worked well as a team for our final hurrah – we knew how to collect the data accurately and with precision!
Breakfast was followed by watching the video Kathleen collected and we agreed the visibility was yucky. We got to view data collected earlier in the week with the array versus the GoPro – it was cool to see the difference between the footage with respect to the wide angle of the GoPro verses not of the array, and also to hear the auditory differences. The array audio was much different to the GoPro audio with more sounds captured and audible.
Next on our agenda was a passionate discussion on the paper we had to read. It was eye-opening and we learned what to do and what not to do when writing a scientific paper.
Lunch wrapped up nicely with a coconut cake! Then, after lunch, some of us went snorkeling and some soaked up rays near the pool. Those who snorkeled saw a chain moray eel, an eagle ray, and a trunk fish. Those who soaked in rays went swimming and avoided the rain that drenched nearly everyone this afternoon.
Later this afternoon, we returned to Bailey's Key and got another chance to hang-out with the trainers and the dolphins. It was again amazing and we learned more from our trainers, for example, Dante enjoys teaching the dolphins how to enjoy and engage in the behaviors they do. Another group of us got a chance to touch Stan's tongue and it felt rather silky. Thank you to all of the RIMS team for sharing the dolphins and their relationships with the dolphins with us!!
We wrapped the day up with a great dinner and some mighty fine key lime pie. And just before writing this blog, we got to compete for some DCP swag while showing how many dolphin IDs we recognized from photos and then we got to "strut our stuff" and show off what we learned throughout the week about dolphins, DCP, sea turtles, coral reefs, and more.
We dolphinately had a really good week!
Cheers
The URI team & Kathleen