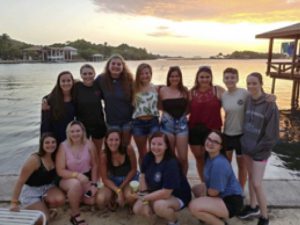 We began our day observing Kathleen's data collection session in the pouring rain, as usual. There was an atypical lull in activity at the surface but a few of the dolphins came over to play. Izzy was even gifted a freshly caught blue tang by one of the dolphins! After breakfast, we watched Kathleen's footage from the morning and are finally starting to get the hang of IDing the dolphins… just in time to head home.
During our morning break, we reaped the benefits of Fiesta Night. Coral got a lovely free massage. Izzy and Anya "shopped 'til they dropped" at the gift store with coupons they won in the dance competition. Katrina is still exuberant from her big hermit crab race win and Annie lost her voice cheering everyone on.
Following another delicious meal, we headed over to Bailey's Key for a dolphin-filled afternoon. We participated in encounters with Elli and Poli. Elli showed off her beautiful front flips, a new behavior she recently perfected and we were honored to be her first audience. The very talkative Poli delivered a nice juicy smooch to Justin. Next, we moved right into a snorkel with the dolphins. The visibility was not ideal due to the recent storms, and many of us experienced frequent dolphin surprises through the silty water! After the swim, we were fortunate enough to observe a training session with the dolphins and their trainers. We broke off into pairs and were each assigned a dolphin. It was interesting to hear about the training aspect of working with these animals in addition to the research aspect. Despite another storm passing through, we all had an absolutely amazing afternoon with all the hands-on dolphin experiences.
We all quickly took advantage of nice, warm showers before heading up to the restaurant. At dinner, we capitalized on garlic bread and collectively consumed 10 baskets worth. It is currently 7:42 pm and we are all ready to "hit the pit." We are sad that tomorrow is our last day, but just want to say thank you Justin and Kathleen for this opportunity!
We look forward to our last data collection session tomorrow morning!
Cheers
The URI team!