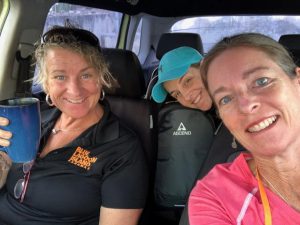 Heather and I arrived to Nassau on Tuesday afternoon for our current few days of data collection on the dolphins at Blue Lagoon Island home of Dolphin Encounters (DE). We met up with Annette, Director of Education and Staff Development, to confirm the logistics of our visit. In this image, we are ready for our first full day of data collection!
Heather and I will connect with Te-Shalla to continue our sessions to examine whether dolphins have a preference between two symbols that have been correlated to "little" (a circle) and "a lot" (a star). We will be working mostly with Zig and Ludwig, two young male bottlenose dolphins. We will also be collecting respiration versus activity level data on any and all of the dolphins we will be observing at DE.
Our trip is short, but we expect it to be productive!
More tomorrow
Cheers
Kathleen & Heather