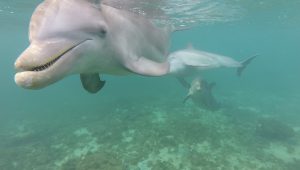 The morning session went long to 45 minutes because the underwater visibility was great! The dolphins were very social with each other – much rubbing and rolling and play over and with each other. Stan, Tank and Dory were fascinated by my fins until I raised them above the water surface a couple of times. Gracie circled around me while also swimming with Maury and Tilly. And, I watched Alita and Carmella share a lengthy pectoral fin contact exchange while swimming out of view! Bailey, Tank, and Poli swam together for a while in a staggered infant position (pictured – not the great underwater visibility!).
Our team collected surface spatial use data while I was collecting the focal follow video sequences. They did a very good job of documenting the surface activity level of the different dolphin subgroups. After breakfast, we logged the data sheets from the morning and reviewed the video.
The divers in our group had a full day with 3-4 dives each, including a night dive for Raina and Jill, during which a lobster seems to have put on a show!
It was a good day with only a few scattered squalls passing over us. Tomorrow has our group doing their in-water swim with the dolphins in the afternoon as well as data collection in the morning and several dives planned.
Cheers
Kathleen & the 2019 DCP Eco-tour team