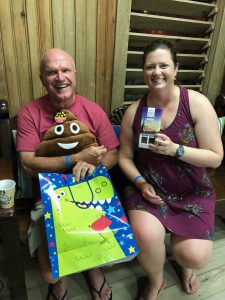 We all arrived safely to Roatan for the DCP 2019 eco-tour. And, we were pleasantly surprised by short immigration and customs lines!
It is wonderful to be back to AKR and to seeing the same folks at the resort and the animal care team. And, of course the dolphins! Several of us went over to Bailey's Key in the afternoon to greet the trainers and to see the dolphins. Everyone looked good. There were programs and so I was able to re-introduce several in our group (Ron B, Regina, Ron R, Raina, Taylor) to Ritchie, Ronnie, French, Champ, and Lenca. The rest of the dolphin group was out in the main pool lagoon area and harder to introduce close up.
Our evening wrapped up with a chat about Sunday's start time for data collection and a congratulations from Jill to Ron B for his long-time support of DCP, and for his mischievous humor!! (see blog photo for Ron's thank you treat!)
Roatan midnight (i.e., 8 pm!) came early and we all said good night to slumber and prep for the early morning observation session.
Until tomorrow,
Kathleen, John, Ron B, Jill, Don, Bill, Charlie, Ron R, Regina, Raina & Taylor