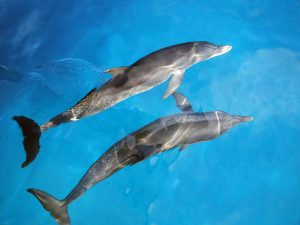 Wednesday was a busy, busy day for the current ecotour group (who are just delightful, by the way!). We met up at 9 a.m. and were soon headed to South Bimini. Destination? Bimini Biological Field Stations, aka "SharkLab." While Kel gave a talk to visiting students from University of Minnesota and some Lab staff & volunteers (thanks for the invite!), the DCP group enjoyed a great tour (thanks for accommodating our schedule!). They learned all about the sharks of Bimini, especially nurse and lemon sharks, Lab's research and even watched a "workup" of southern stingray. After a very enjoyable and educational experience, we headed back to North Bimini for lunch and rests before our 3 p.m. dolphin trip.
The seas were calmer today and the sun was shining. I was already thinking about how long to wait before suggesting the first "swim break," when we saw splashing, then a big leap, to the west. We cruised over and found a lone bottlenose dolphin with a very distinct dorsal fin. It wasn't terribly interested in the boat (though we did get some nice looks near the bow) and was swimming in an erratic pattern. So, I collected some dorsal fin photographs to match to our photo-ID catalog and we said goodbye.
That first sighting energized us for more and the day did not disappoint. We were able to watch a group of 12 Atlantic spotted dolphins (there were others scattered in the distance) for a while and saw them under water. I ID'd Sulfur (#102) from the boat and then saw Paul (#99) under water. After our first swim, the group size shrunk to five; Niecey (#48), her male calf and Paul remained, along with two older juveniles. We saw lots of pec-to-pec and pec-to-body rubbing, especially between Paul and another male (pictured here). The guests giggled at the calf, who was very busy zipping about, showing off his pink belly and overall just being goofy. We got two chance to swim with this smaller group….and, as always, it was a privilege.
Back on land, I gave the team a ride north to pick up their pizza from the famous Edith's. Yum!
Until tomorrow,
Kel