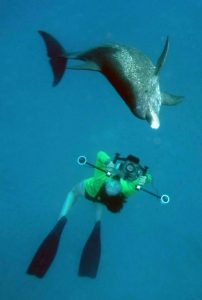 On Monday morning, the ecotour crew and I sat around the table and talked about DCP, our research off Bimini, the species found here and our role in The Bahamas Marine Mammals Stranding Network. They had a lot of great questions and we were all excited about the afternoon's boat trip.
We once again departed at about 3 p.m. and we were not disappointed with the weather. The seas were calm and there was just enough breeze and cloud cover to keep us at least a little bit cool. After about 90 minutes of searching, it was time to hop in the water just to cool off and wake up. We then resumed our search and even though I chatted with the guests about my personal policy of not giving up on finding dolphins until we are turning back into the harbor, I'm not sure they believed me. But the dolphins sure did wait until almost the last moment! Suddenly we could see 8 Atlantic spotted dolphins, including Swoosh (#36) and, presumably, her calf. Most of the other dolphins were older adults and since it was getting late, we quickly got in the water. We had a hilarious observation of one older male (I'll try to ID him later from stills and video). He was hanging upside down, just letting us all check him out! Later, Buster (#04) came through, as if he wanted to be sure we had good video for his adoption kit like yesterday's "boys' club." It was great to see him!
Needless to say, we were all glowing as we returned to the dock. Now it's time to get this blog posted and head to bed!
Until next time,
Kel