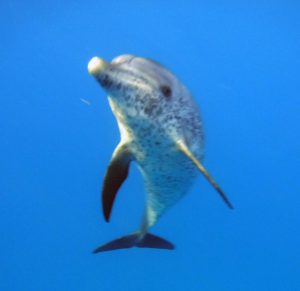 Tuesday was our last full day on Bimini. We began by met Kel for early pickup by the Coral Reef II's dingy. We bounced our way out of the harbor and soon were climbing aboard the Shedd Aquarium's research vessel to chat with their first round of Teen Science Expedition students. It was a whole new take on Kel's presentation – a large flat screen TV, cool A/C….and a gently rolling boat! It was great for Nat and me to share our recent paths through undergrad with these high schoolers.
Soon, we were back on land, prepping for our last boat trip aboard Renegade. We hoped it would be filled with dolphins, and encounters under water. Although it was our last boat trip, being aboard Renegade and searching for dolphins was a feeling of true bliss. It was another hot day and it was a bit rough providing us with tricky conditions to look for splashes or dorsal fins breaching the surface. Early during our trip, Captain Al spotted dorsal fins in the distance and we were met with 10 or 12 dolphins. This encounter was special for us because Nat and I were able to enter the water together!
Nat quickly grabbed the GoPro, and I grabbed my camera to take still photos of the dolphins. Nat was second in the water after the fearless group leader, and quickly caught up to dolphins to record video data. I entered the water last and made my way to the dolphins. At first, I couldn't see anything because the visibility under the water's surface wasn't the best. Suddenly, I saw a big group of dolphins right under the surface. Dolphins seemed to be everywhere, and dolphins from various directions were joining the big group. I observed the dolphins for a moment, and then they went out of my view. They came back weaving their way through all the people in the water. Perhaps they were checking the unfamiliar objects (humans) that were in their environment. When I thought the encounter was over, I saw the massive group of dolphins along the bottom. They were too far for me to take still photos of them, but in unison they came up to the surface and took a big breath of air. I was able to swim with them for a little bit before they went out of view once more. Renegade picked us up, and we continued our search before our next sighting of dolphins came along.
This time Nat got in the water with the guests and a group of 12 spotted dolphins. Nat told me that during this encounter the dolphins did not seem to care about personal space. A couple of dolphins seemed to beg for her attention while she was trying to record the focal animal in the focal follow technique. Nat also told me this was the closest the dolphins had ever gotten to her. I was excited that Nat had a great last encounter with the dolphins before we said our final goodbyes, just as I had a great last encounter with these beautiful creatures.
Our last adventure on Renegade was nothing short of amazing. It was a combination of playful dolphins, glassy water, and great encounters that made the last day one to remember. It was a period of reflection as well, thinking about our time on the island and how much it would be missed when rejoining life in the States. Our flippered friends gave us a good send off. Tomorrow is our travel day back to Port. St. Lucie for the second half of our office portion of the internship. This is my last entry; I would like to thank all the readers out there for taking time the time to read The Daily Dolphin and following the adventures of the interns. "Life is not about the destination, It's about the journey".
Cheers,
Taylor and Nat