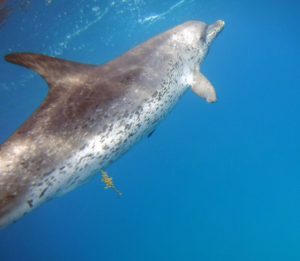 On Monday, Taylor and I woke up and made breakfast as we usually do and then headed to the Sea Crest for a DCP talk for the Sea Crest guests. Kel talked all about why photo identification is important for research and how to tell the spotted dolphins apart based on their spot pattern! It was a fun talk and Taylor and I always enjoy listening to the lectures. We also helped to outfit some of our cool DCP swag to the guests who wanted to rock a DCP shirt on the boat. After, Taylor and I went back to have lunch at CJ's Deli right along the beach. Then we decided to have some fun at the beach and cool of in the water. After we went to the beach, we grabbed the sighting sheets and GoPro and headed to Renegade for our boat adventure.
We started looking for dorsal fins at 3:00 amongst some fairly rough seas and rocky waves. It was definitely one of the rockiest days we've been out, so the boat was swaying back and forth. We stopped for a swim break and sure enough there was also a strong current in the water. It was like a water treadmill as we swam against the current and got almost nowhere! After the swim break we continued searching for a long time. Eventually, after hours of searching, Taylor spotted the spotteds! There was a group of eight spotted dolphins riding the three foot waves of the rough seas all around us. It was so much fun to see them surf the waves. Among this group was Romeo (#10) and Swoosh (#36) – again! – as well as Inka (#93) and an inquisitive adult male who we'll need to ID later. Taylor and the guests got in the water for a nice long encounter as the dolphins swam around in the waves. They also put on a show for the people remaining on the boat as they made huge jumps in the air. I got to see Romeo jump fully out of the water and body slam right into a wave. It was so awesome to watch! Then the encounter was over and we began the journey home.
But, the dolphins weren't done with us: on our way back home we came upon 20 more spotted dolphins! It was just a little too rough to try another encounter, so we just made some surface observations. It was harder to ID the dolphins in these sea conditions, but Taylor and I were able to make out Sulfur's (#102) distinct dorsal fin! Although we didn't get in the water, the dolphins still put on a show as they leaped out of the water and played in the waves. Who knew rough seas could be so fun! Soon it was getting late, so Captain Al turned the boat around so we could head back to shore. We docked and then Taylor and I went right back to our cottage for a quick lights out! We had to get up early the next day for a talk aboard the Coral Reef II. More on that to come in the next blog!
Until next time, cheers!
-Nat and Taylor