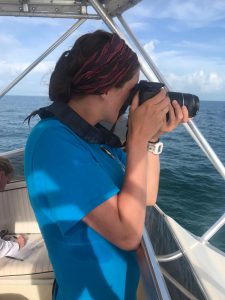 On Sunday, Renegade embarked on the usual to look for our flippered friends with some unexpected delays due to weather. We stopped along the way to do a gear check, or for the interns, an excuse to jump in the water and cool off from the scorching sun. During the gear check one of the guests referred to us as mermaids, which I though was very funny. After the gear check we resumed our search…
Soon, we saw some dolphins in the distance. Everyone on board concluded that they were common bottlenose dolphins (T. truncatus) visiting us. Nat quickly unpacked the surface camera to try to capture their dorsal fins (pictured here). These dolphins were not into our agenda. They were moving fast and staying underwater for long increments of time, so after some time we left them in search of other dolphins.
After many hours of searching, and the sun was about to set over the horizon Renegade was making its way back to the dock. Suddenly, Nat and Captain Al saw some dolphins in the distance. This time they were spotted dolphins. The vessel sped up a little to catch up with the dolphins. As soon as we were close to them, Captain Al gave us the order to get our gear on. I was second in the water this time with the GoPro to take some video footage of the dolphins. This was classified as an encounter attempt because we didn't actually see any dolphins underwater.
Later that evening, we came upon another boat and dolphins, but we weren't able to collect anymore underwater data. Still – considering the rain delay, it was a nice first day on the boat for this week's Bimini Adventures group. Stay tuned to find out how the rest of the week goes!
Cheers,
Taylor and Nat