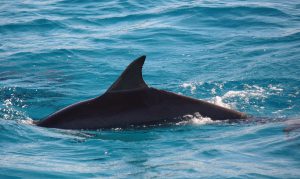 Thursday wasn't just the fourth of July but also the DCP eco-tour's last boat trip! The boat departed at 2:00 pm so we could go to the Three Sisters for a nice snorkel stop. Taylor and I had fun rocking our new DCP rash guards while we went and checked out the huge schools of fish under the crooks and crevices of the Big Sister rock. I love free diving down into the big school of fish because it makes me feel like I am one with the school. We also saw a huge barracuda swim by and scare some of the smaller fish around the rocks. Soon we were back on board Renegade and searching for dolphins. It was a rocky and windy day out on the sea. It was definitely the rockiest Taylor and I have experienced so far out here in Bimini. The waves made it hard to see any dorsal fins out in the distance because of the frequent white caps, but Kel reminded us that it was still both safe and worth the search – sometimes Renegade is out in even rougher seas! I think I imagined a dolphin jumping about a hundred times because the white caps often look like splashes.
After a while of looking, three bottlenose dolphins appeared out of nowhere right at the bow of the boat. I quickly took out the surface camera and snapped a couple pictures of their dorsal fins. They were slowly on the move, so we didn't try to have any encounter with the bottlenose dolphins. Soon they were out of sight and we continued our search for some spotted dolphins. After we looked for as long as possible, we had to start heading back home because it was getting pretty late. Unfortunately, we didn't run into any spotted dolphins, but sometimes these dolphins need a break from us too. We came back to the docks and quickly showered for a late dinner. Taylor and I were able to join the guests during their last dinner and then we said good-bye to everyone Friday morning before they headed to the airport. We had a lot of fun with the DCP eco-tour group this past week and hope to see them again one day on future DCP trips and tours!
Until next time, cheers!
-Nat and Taylor
PS: A huge, giant, enormous thank you to Bimini Adventures and the Sea Crest teams for making our first ecotour of 2019 a great success. We're so proud of this collaboration and look forward to many more – including our August 11 – 16, 2019 program! Snag a spot now – time is running out to meet the minimum of 10 which is required for delicious meals included.