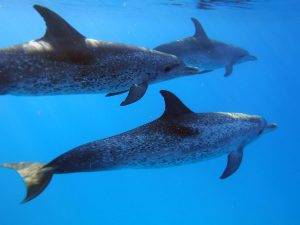 My return to Bimini has been nothing short of amazing since nothing can beat the incredible boat expeditions we go on in search of our daily dolphins. Taylor and I have been soaking up island life and getting into the groove of photo ID sorting, video logging, and recording the 2019 sighting sheet while we search for dolphins on the boat. We especially had a blast as we joined the Manhattan and Hunter Colleges for their snorkel and boat trip on Wednesday!
First we arrived 15 minutes early to the docks over by the Sea Crest in order to get everything ready for the boat trip. Making sure water bottles were filled, sunscreen was applied, and GPS was turned on, we made our way to the top level of the boat so we had a good vantage point for searching for dorsal fins or fluke slaps. We made a note that a storm was approaching in the distance from the Northeast. We were crossing our fingers the storm was moving away, but as we traveled North we quickly realized maybe the storm was getting a little too close. Captains Al and Kat turned Renegade around and started heading South in order to wait the approaching storm out. Shortly the storm cleared and we were able to continue our journey North in search of or dolphin friends. There was one pit stop by the Three Sisters rocks for a 45-minute snorkel stop. Taylor and I were able to see a little nurse shark and tons of fish against the sister rocks.
After the snorkel stop, we continued onward for our search. It wasn't long until we came across a single bottlenose dolphin. Taylor quickly recorded the latitude and longitude of the sighting and I retrieved the surface camera to snap shots of the bottlenose's dorsal fin. Soon the dolphin went on their way and we continued to look for the spotted dolphins. We searched for a long time with no luck. Eventually, we started to turn around and head back home thinking we might not get to see the spotted dolphins that day. But, our luck changed and there were a couple of spotted dolphins looking for a bow ride. We had a couple of sightings of different groups which included dolphins #113, Sulphur (#102), and Inka (#93). The feeling of recognizing these same dolphins after a year was very rewarding and it was so good to see these familiar spots. The dolphins suck around for about a whole hour! It never gets tiring to watch them play around the bow. Eventually, the spotted dolphins went on their way, and we went on ours back home. Taylor and I were exhausted after a long day on the boat. We cooked dinner, did a little photo sorting, then had a quick lights out (literally since the power went out), and went to bed.
Cheers!
-Nat and Taylor
PS: Still time to snag your space to come experience Bimini, the dolphins and truly make a difference in DCP's research. August 11 – 16, 2019 – click here for more info!