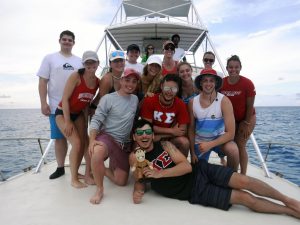 Our wrap up with the SHU group was busy busy! Last Wednesday, we swapped morning blog writing for photo-ID practice before the group headed out to a small mangrove island on the edge of Bimini harbor. Once they were back at the Sea Crest, we dove back into photo-ID, this time working to match photos they took this week to DCP's photo-ID catalog. They all did great, finding Speedy (#78) and Sulfur (#102)!
Then, it was boat trip time, first stopping at "Bimini Road" (aka "Atlantis" or "The Road to Atlantis"). Kel gave the backstory on how this came to be such an important snorkel site for Bimini and everyone hopped in to make their own observations. Then, it was dolphin searching time! First up was some scattered, feeding bottlenose dolphins. Then, we caught up with some Atlantic spotteds. Throughout the day we saw several immigrants from the northern Bahamas, as well as relatively recent Bimini catalog additions (which you can tell by their high numbers) Sulfur (#102), #104 (aka "Lamda") and un-named #105 and #107.
The big show was the escort home we got from Split Jaw (#22), Prince William (#64) and Speedy (#78). They joined the dolphin group as we picked up speed toward home. Soon, the original dolphins departed, but not this trio. They rode the bow of the boat for a whopping 90 minutes! It was incredible! At one point, Split Jaw and Speedy were at the ends, putting Prince William in the middle. Prince William proceeded to roll under and over and under and over and under and over Split Jaw. It was a very cool sight!
Back on land, we wrapped up with our final group dinner and a social evening out. We danced, sang and even played dominos with some encouraging locals. In the morning, we did our beach clean-up (it was already hot by 9:15 a.m.!), did last minute shopping and packing, and then discussed ecotourism before having lunch and saying goodbye.
What an incredible experience for the SHU students. We are so grateful to Dr. Yeater for recruiting and staying dedicated to this program and we are already looking forward to the next one. The next few days mean wrap up and catch up for us, but stay tuned for more stories from Bimini!
Cheers,
Nicole & Kel, on behalf of The Conch-erers (SHU 2019)
PS: Time is running out to grab a space on our just-added 11 – 16 August 2019 ecotour session. Come see bow riding wild dolphins for yourself – maybe, just maybe, you'll see Split Jaw and his buddies too! Click here for more info.